$499 $399
Limited Time Offer! Save 30%
For Win 8, 7, Vista, XP
(For Mac OS 10.5+ version here)
eFlip Professional
Build Web-ready Interactive Flash&Html5 Publications, Fast.
Create unlimited digital publications form PDF, Image, MS Office and OpenOffice;
Make it truly interactive with hyperlinks, video, music, transitions and animated effects;
Unlimited Publishing; 10 GB of online storage space for free host your publications;
Quickly Merged Multiple PDF files to single Page Flip book;
Manage all flipbook pages: add, delete, arrange in order and switch view mode;
400+ pre-desinged templates help create professional flipbook online;
700+ pre-desinged backgroud image online for flipbook design;
300+ online fantastic scenes to make flipbook with animated background;
Multiple Plugins resource to enhance FlipBook content or functions;
Integrate with flipbook app maker :Expand your audience through Android app;
Server software - Command line to convert PDF to flipbook in background;
HTML, EXE ZIP output formats (iPad, mobile phone supported), even burning to CD;
Direct connection to FTP to publish your Flip book online;
Share your publications on YouTube, Facebook, and Twitter etc;
Lifetime licenses, buy once, use forever;

..
Overview
Features
Screenshots
How It Works
VS Standard
Features
There are so many characteristic of our flip series products. Here are some key features of "eFlip Professional":
1. Import PDF&Office
Browse and open your object PDF & Image& MS Office & OpenOffice file, turn to flash book;
Flexible Importing Option: Import Single PDF or Import Multiple PDFs;
Set page ranges of PDF & MS Office & OpenOffice to import and convert, from all pages to custom range;
Set page quality and size, contains five levels;
Import Links, Bookmark from original PDF to converted flipbook;
Enable Search, import content of your PDF together and enable users to search keywords directly;
Detect wide pages, cut landscape pages into two portrait pages to spread in flip book.
2. Publish Options
FlipBook for online or Offline, depend on the output types you select.
HTML option: check it to make online Flash Flip book;
EXE option: build execute program with detail company info;
APP option: App Flipbook support for viewing on Mac;
ZIP option: Offline file easy for email sharing;
FBR option: support for read on Free Flip Reader, easily and quickly;
Achieve to take along any time, any place after burn on CD;
Output mobile version HTML5 flipbooks to view in the browser of iPhone, iPad and Android directly;
To FTP Server: Publish the designed book to your FTP directly;
Screen Saver: Set the designed flipbook as your computer screensaver;
Email to: Send your designed flipbook to people directly via email.
3.Page Editor
This editor allows you to add new pages and embed multimedia in pages.
Add sound like page book voice or other;
Add Video Player (Define UI Skins) to Flipbook;
Add Sound Player (Define UI Skins) to Flipbook;
Add link to build the bridge with website;
Add movie that should be play FLV format;
Add image to enhance sense of beauty on digital book;
Add button to set before functions as button action;
Add Shape to highlight the important content;
Add plain, dynamic, star wars text in pages;
Add Camera Displayers to grasping beautiful moments;
Add Printable area to create Printable Coupons.
4. Online Service
Upload Online: unlimited publishing book to online without FTP; 1000 MB of online storage space for Free host your 500+ eBooks and securely;
Manage Online: share online book link to email, social network. And edit the online book info easily, including title, description etc.
5. ToolBar Button Settings
Brand Flip book with Logo and Link;
Search function enabled;
Share eBook url via email;
Support sharing flipbook to social networks;
Insert background sound in flipbook to enhance presentation easily;
Enable viewer to download and print your flash flip book;
Write help info to show in Help Window, like how to read flip book, etc;
Flexible zoom options have been added: mousewheel zoom, double-click zoom, click flipbook buttons to zoom etc Mini mode supported;
Link to Google analytics tool by input Google Analytics ID to know page visiting data;
Enable readers to play flip book without action with using auto flip reading mode;
Set different languages to use for tips of buttons, also can allow users to switch between different languages;
Set different page number types Roman number for catalogue, Arabic for main body;
Add Annotations to explain the professional nouns.
6. FlipBook Design Tools
Lots of Built In Templates, Themes, Background Images and Scenes;
Online Templates, Themes, Background Images and Scenes for you to install;
Full Independent designs your unique Theme, Scenes and Background Image for later use;
Set background color with different gradient angle, from color A to color B;
Input beautiful image or your company's special background file to professional your flip book;
Set the toolbar, button, font color;
Define Thumbnail style;
Provide hard cover effect;
Read FlipBook from right to left;
Set preloader;
Use minime style to show e-books without toolbar or other buttons in small window;
Adjust page shadow position and size;
Change book proportions and book margins factor, for coordinate flip book's background;
Hide book frame bar, only display flip book;
Support Setting flipping speed;
Set Page Thickness.
7. FlipBook Security settings
You can set your personal password for all pages or exclude front pages to protect your e-books against unauthorized access;
Add Text, Logo, or Image watermark to protect your copyright.
8. Reading Modes
Hyper channel that enter into previous, next, first, last page, just press the corresponding arrow;
Use mouse wheel, keyboard to turn pages directly;
Bookmark can help you scan whole framework and then you can set font color to different from bookmark background;
Thumbnail panel, quickly find out which page to view and go to;
View Page Flip book in FullScreen Mode.
9. Other features
Command line mode to convert without opening the GUI program;
Batch convert button to convert much PDF files to flash at a time;
Integrate with BookCase to show the books;
Add lively Assistant and record audio to introduce your flipbook;
Quickly manage the PDF page in Page Control Panel;
Library use to statistic the number of Theme, Background and Scene.
Built-in Plugins resource for displaying news, photo slideshow, YouTube etc;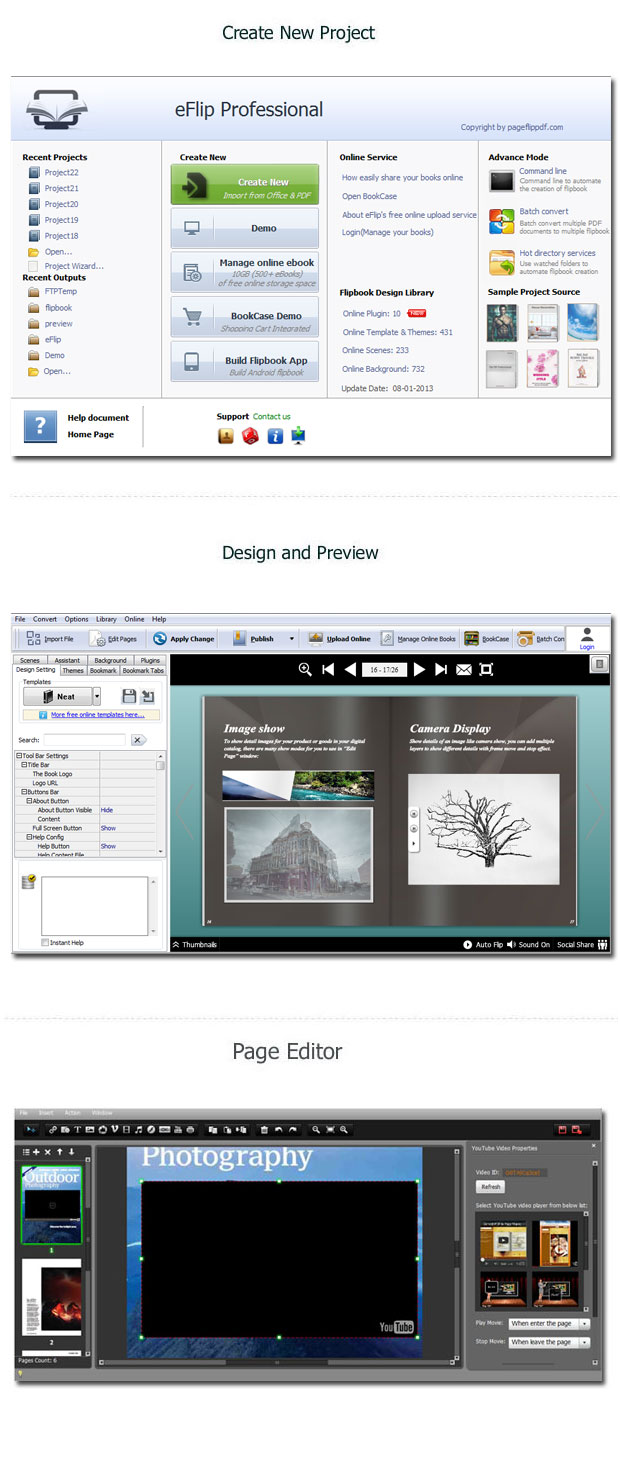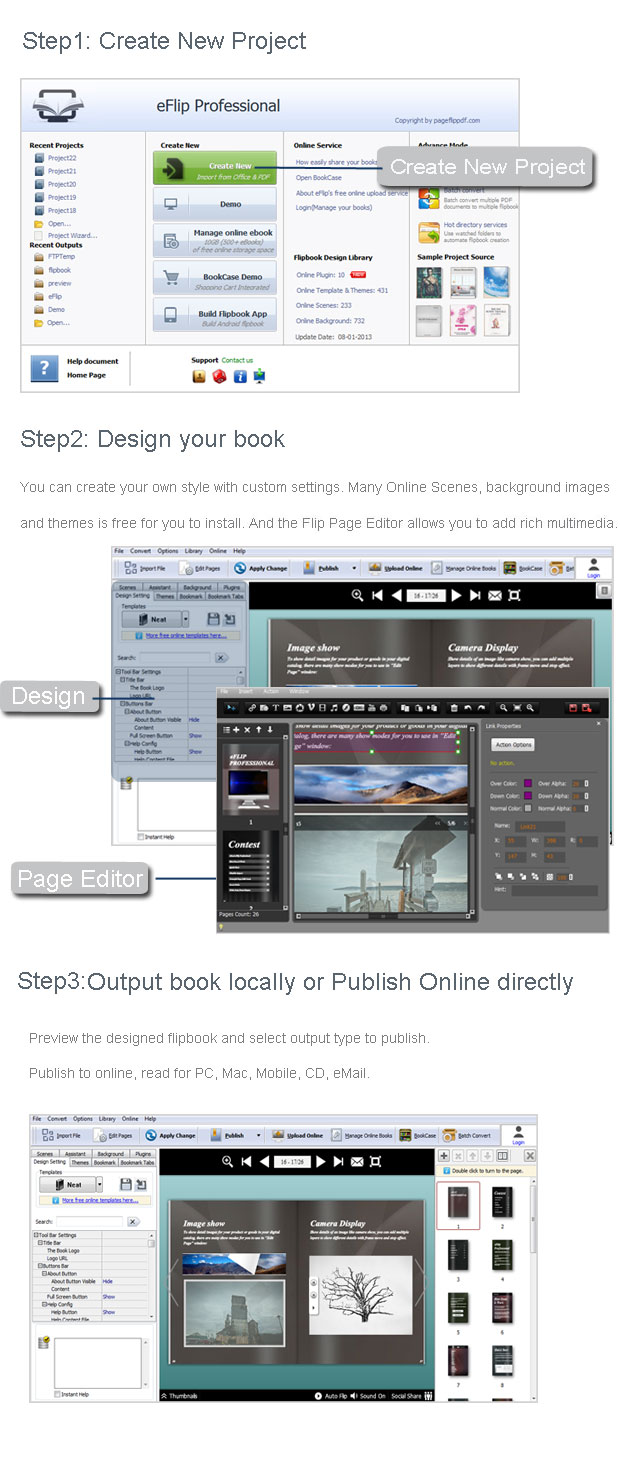 eFlip is split into 3 licenses:



eFlip Standard vs. Professional vs. Enterprise




Item
Features
eFlip Standard
eFlip Professional
eFlip Enterprise

1

Convert PDF files to Adobe© Flash® based flip books

2

Create Unlimited Online Publications

3

Convert Microsoft Office (.docx;.xlsx;.pptx) and OpenOffice Document into digital publications with realistic page-flipping effect

4

Output formats supports generate SWF file, publish as HTML, flash flip book, output as EXE and save as screen saver, Zip, Mac App, Mobile version and Burn to CD\DVD

5

Free Online/Offline Distribution; up to 100 GB of online storage space for Free host your 5000+ eBooks and securely; share any publication instantly

5GB

3 years of free cloud host

10GB

5 years of free cloud host

100GB

8 years of free cloud host

6

30+ professionally-designed flip book templates, including shopping card, magazine templates, wedding templates and more...

20+

30+

60+

7

Corporate Branding and Design - Users may customize their publications with logo, specific colors, link from page-to-page and external web links, and more for a personalized branding.

8

Publish flippbook on Mobile devices (iPad, iPhone, Windows Mobile, and Android OS) - Without installing any apps, or programming

9

Batch convert multiple PDF files to single or multiple flip books

10

Import bookmarks, hyperlinks, email links, from PDF and Office files

11

Add watermarks, text, image, dynamic date/ time

12

Add Image or Flash logo, company's logo to insert before Book caption in pre-designed flipbook template; Customize with your own Branding

13

Add HTML title containing hyperlink to webpage; Optimize keywords to target online search engines (SEO); HTML sitemap til Search Engine Optimization (SEO)

14

Customize template details such as margins, background images, page display orientation, cover type; Define template details, like book margin, background image, read orientation, hard cover, autoplay etc.

15

Add Help config to manually define content using images or SWF

16

Insert your own tracking code from your standard provider (e.g. Google Analytics) for visits of your online publication

17

Export and save flipbook designed settings or projects for future uses

18

Customize toolbar buttons to set permissions for downloading, printing, sharing and more; Customize the main toolbar (add, remove, re-arrange entries); Set permissions for downloading, printing, Home button and more ; Enable / disable each toolbar button; Fullscreen and Pageoverview controls; Sharing on Email, Facebook, Twitter..

19

Export and save settings for future use

20

Add Help config to manually define content with using Image or SWF

21

Choose from multiple languages for your flip book

22

Password protect your flip books

23

Add Minime style to display flip books without the toolbar

24

Support add Ad banner advertising to flip book

25

Include titles, keywords and other metadata for HTML output

26

Paging controls with forward, back, first, last; Turn Pages using your keyboard (arrows)

or curser; Turnable pages and navigation menu from right-to-left (Arabic / Asian)

27

Integrated, turn page click sound, upload your own sound (MP3); Background music (MP3), including volume bar in the online publication

28

Manage and share the books via using the wonderful and realistic BookCase tool

29

Save themes for later use

30

Select page turn left-to-right or right-to-left - perfect for Arabic and Asian languages

31

32

Insert animated figure to narrate designated dialogue; record audio for your flip books

33

Set Language dialog box for flip book with multiple languages

34

Free Technical Support Yearly

3 years

5 years

Forever

35

Replace existing icons on toolbar by editing Icon Flash file

36

Add new icons to toolbar with calling actions

37

Add About button to show contact or other information

38

Insert images\swf and pdf as a new page to the imported pages

39

Edit pages by adding links (web page/web/Javascript function)

40

Embed FLV movie and/or YouTube video

41

Add audio content to a single page to integrate jingles or podcasts of your advertising

customers to your FlipBook; Add background music for single pages as well for the entire FlipBook; Watching video while reading your digital publications

42

Embed SWF flash; Insert FLV movie, YouTube video to pages

43

Insert buttons on pages to link, call Javascript function, or play Flash or other video in pop up window

44

Use command line to convert PDF files without opening the application; Scripts in the command line; windows console to batch create flipbook in background

45

Insert static or dynamic text, single or multiple photo slideshow, lines, graphics, buttons

46

Call Javacript, add notes, highlight a specific area, set print area

47

48

49

More templete & SWF(Button, PNG, slideshow) resources

50

Add Shopping Cart function on flipbook

51

Create eBook (Mobi,epub,fb2,rtf,htmlz) from PDF & Office

52

Create Mobile(Android) flipbook APP and submit to Google Play