eFlip's free online upload service
Can I use upload online service free? How to upload books to your site directly?
Yes, It is free for registered user! No monthly account fees !!!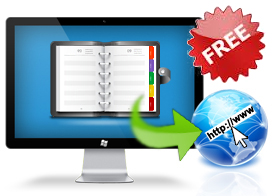 With eFlip's free online upload service you can upload PDF, OpenOffice, Word, Excel, and Powerpoint files to create online magazines. The page-turning effect and zoom options are built into eFlip and automatically activated. After your page-turning document is live on eFlip's upload service, you can embed it into a blog, wiki, or website. eFlip also offers a "bookshelf" widget, which you can also embed to display previews of multiple documents. The widget is ideal for teachers who want to display the work of an entire class in one neat package on a classroom blog.
For eFlip Standard User: Every eFlip Publisher account comes with a complimentary 5 GB (250+ eBooks) of online storage space for 3 years.
For eFlip Pro User: Every eFlip Publisher account comes with a complimentary 10 GB (500+ eBooks) of online storage space for 5 years.
For eFlip Enterprise User: Every eFlip Publisher account comes with a complimentary 20 GB (1000+ eBooks) per installations of online storage space for 8 years.
eFlip Enterprise User will get 5 installations = Total 20 GB x 5 = 100GB (5000+ eBooks) of online storage space for 8 years.

To make it easier for you to pubish your created flip page books online, we developed the Upload Online Service for registered user. By using this service, you can upload your book online instantly after creating it, with no FTP or other upload tool needed. You can easily manage your books, and make it easy for people to view your books online in their browser on their PC, Mac, iPhone, iPad and Android devices.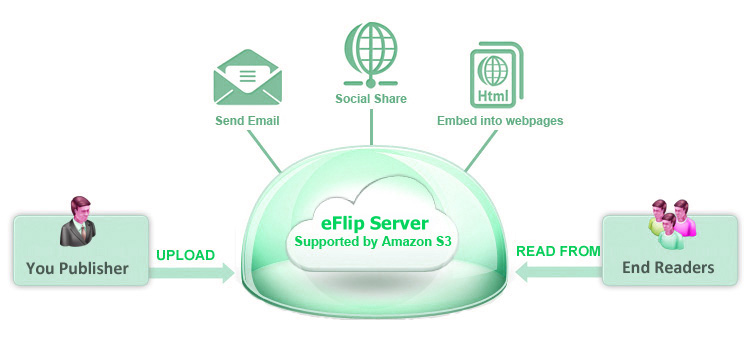 Benefits of using eFlip Upload Service:
I. You do not need a web site
To publish your book online with eFlip' free upload online service, you do not need to use FTP or any other upload tool, just a click, your publication can be read online instantly, don't have to wait long time for uploading now.
II. Safely Store with Amazon S3
eFlip' Upload Service uses Amazon S3 service to store your book data. With Amazon S3's data protection features, you can protect your data from both logical and physical failures, guarding against data loss from unintended user actions, application errors, and infrastructure failures. Amazon S3's standard storage is:
Backed with the Amazon S3 Service Level Agreement.
Designed for 99.999999999% durability and 99.99% availability of objects over a given year.
Designed to sustain the concurrent loss of data in two facilities.
III. Easily Upload, Access, Share (NO FTP and Breakpoint transmission)
After building flip books with eFlip, you can use Upload Online service to publish your book online with one click.
After publishing, you will get a link for your book, click the link to view your online book directly; Or send the link to others via email instantly; You can even share your uploaded book with others through different social sites, such as Facebook, Twitter; If you want to insert the book in your webpages, just paste the code in "Embed Code" window into the webpage source code part directly.
IV. Simply Manage Publications (control book as public or private)
Click "Manage Online Books" button to enter into book manage interface, you can see your book list, show or hide books, edit book details such as Title, Description, even set Share Options as "Public" or "Private"(means only specified people can view the book).
More see:
How to upload flipping books online by using our service?
How to manage your online flipping Book on eFlip server?
Download eFlip flipbook software to have a try now >>