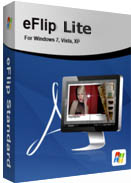 $99
For Win 8, 7, Vista, XP
For Mac OS 10.5+ version here
eFlip Lite
Publish and share with millions of readers in just one link!

Retain full control of your digital e-publication;
Create unlimited digital publications form Image, RTF and Text Book ;
Easily and securely hosting with 3 GB free online publication storage account;
Manage all flipbook pages: add, delete, arrange in order and switch view mode;

Host your

100+ eBooks

 and securely; share any publication instantly.
400+ pre-desinged templates help create professional flipbook online;
700+ pre-desinged backgroud image online for flipbook design;
300+ online fantastic scenes to make flipbook with animated background;
Multiple Plugins resource to enhance FlipBook content or functions;
Build-in FTP client share flipbook in the form of Flash, EXE, HTML, ZIP, CD, APP etc.
Direct connection to FTP to publish your Flip book online;
Publish on Any Mobile Device (iPad; iPhone); Smartphones and tablets in HTML5.
Optimize keywords to target online search engines (SEO);
Restrict access to your publication by creating registration and password forms (one-time fee for life-time use).
Lifetime licenses, buy once, use forever;
Convert PDF and Microsoft Office & OpenOffice to flipbook, see: Pro Version


.... ....

30 Day Money Back Guarantee

........

Secure Download

........................
Why Use?
Features
Screenshots
How It Works
VS Pro
Cost-effective cross-platform for creating and publishing ebook in Page Flip format of your choice - No encoding or education required - Only 3 Easy Steps.
eFLip Lite is a unique professional and flexible tool for converting Image, RTF Text in flip page format. Simply import your magazine, flipbook, catalog and brochure, and create a multi-media, flip-through publication in minutes.
We offer the only cross-platform tool for media professionals, marketers, publishers, media agencies, web designers and marketing departments by being quick, easy, and very convenient to use.
Create, design, customize, publish, and distribute your own or your client's magazine, brochure, catalog and other documents - online/offline, on smartphones, tablets and on Facebook pages. 
Unlimited Publishing; Free Online/Offline Distribution

eFlip's free integrated online service allows you to share any publication instantly, right from the eFlip's program menu. Every eFlip Publisher account comes with a complimentary 3 GB (100+ eBooks) of online storage space.
Easily make a flipbook and instantly publish it to the online server of eFlip in a convenient way. No need to use any third party tool. Easily manage the uploaded flipbooks on the eFlip Online Server. Share the flipbooks by sending the URLs to others.
More see eFlip's free online upload service
Create Flash flip book with ease
eFlip Lite offers self publisher or book publisher an easy and affordable way to meet their digital publishing needs.
eFlip Lite's flip book software makes it easy for anyone to create Cool 3D realistic Flash flip books without any programming skills. Simply with 2 steps of importing Image, RTF and Text Book , customizing styles and publishing, you can create Flash or HTML5-based flip books with its intuitive user interface.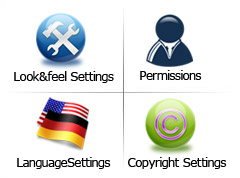 Powerful custom settings
Choose from a range of Look&feel Settings enabling customization of your project. Change the navigation bar colors, replace the flip book themes, set a background color, image and animated scenes.
Modify Permissions by adding a password to protect your flip book. You can also choose to enable or disable the download, print, full screen, zoom, share, and About functions.

eFlip Built-In Plugins

eFlip built-in Plugin is delicate and practical tool which help for enhancing Flipbook content and functions. All of them can be added to any position of the flipbook stage. And Plugins come in multiple forms, such as bubble banner to display SWF and image, personalized MP3 player, news ticker to show hot news, photo slider and YouTube banner, etc.
More see: Add Plugins to Flipbook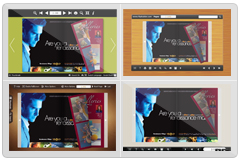 Customizable Flipbook templates & Scenes & Background
It is easy to customize the look&feel of Flash\Htmls page flip books. There are multiple built-in free 400+ themes, 300+ scenes and 700+ background online for you to help you make attractive flip books quickly. At the same time, eFlip Lite allows you to design your own themes with built-in setting features such as backgrounds color, scene, music, menu and image, control button, navigation bar, and book page for better displaying.
More see: Select a template for my flipbook
More see:
How to add online flipbook background image?
How to add online flipbook scenes?
How to add online flipbook templete&themes?
Prevention from unauthorized use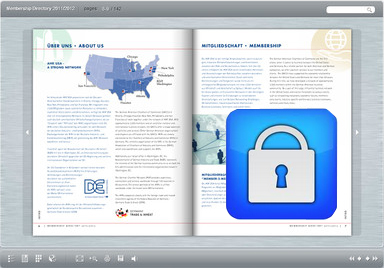 The flip book will work only on your websites. Do not be worry that somebody can copy or use your flip book. eFlip will protect your Flip Book publication with several layers of security, from simple passwords and encryption, to restricting them to be displayed only on specific websites. While publishing your books you will be able to set the watermark if you need to protect your publication from copying.
Personal Assistant & Text Reader
In the new version of eFlip, you can utilize Assistant feature which can help to record audio for your flip books, with synchronized scrolling text integrated. The wonderful feature will be very useful for you to build presentation for meeting, story books for kids, or language books for learning.
More see: Create audio story books for children.
Easy build digital library to show books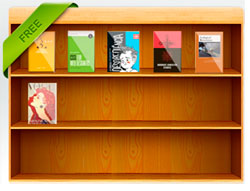 eFlip integrates BookCase tool which could be the best tool to help you build digital library to store and manage eBooks. All books you published on FlipBuilder Server can be collected and shown in your bookcase page automatically, you can easy manage and share the books via using the wonderful and realistic BookCase tool.
More see: Flipbook Bookshelf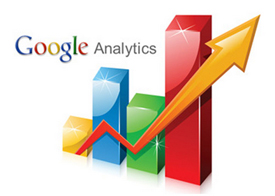 Web Analytics Support
It allows you to integrate Google Analytics account ID in the publishing flipbook that helps you measure your traffic of your online flip book with ease. Turn your publication into an efficient marketing tool. Link your publication to your Google Analytics account to monitor its popularity. This tool will help you to build a more effective strategy for dealing with your clients and business partners.
More see: Tracking with Google Analytics in eFlip
Do not worry about Page Flip Book on iPhone or iPad
You will be able to view your flipping even on devices that do not support Flash Player such as iPhone or iPad. These devices use Html5 page flipping which will present your eBook in accurate and compact view.
Make interactive Flash flip book as HTML format for Website use
Publish for viewing on mobile devices (iPhone,iPad, iPod Touch, and even Android-powered devices)
Output to MAC executable file (APP)
Convert it to flip book as stand-alone EXE for CD delivery
Package it as ZIP format
More see View flipbook in Tablets & Mobile Devices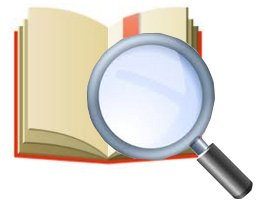 Text Search
eFlip Lite exclusive indexing and search algorithms make the search process faster, even within very large publications, The unique indexing methods and search algorithms enable quick and easy online searching, even within very large publications with table of contents, without any server scripts or dates..
Search Engine Optimization
Publications created by eFlip Lite are search engine-optimized. This means that your content is indexed by all popular search sites, and therefore can be found and accessed quickly by the users. Each publication is now made available for search engines, including Google, Bing, and Yahoo!. This means that internet users will be able to search, find, and access your publications simply by entering the keywords and phrases contained in your publications in to the search engines.
More see: SEO for eFlip Flip Book
Distribution Tools
Increase the impact of your message. Because eflip works via a single URL, content can be delivered using any of the tools you already know: e-mail campaigns, social media, subscription systems, QR codes, Microsoft Tags... It's not an app. Audiences simply access the document's URL, eflip recognizes the device and loads an optimized interface. eflip automatically turns PDF to Flash for desktop and HTML5 for mobile. Adapt and deliver different versions of your content by location, including continents, countries, states/provinces or specific cities, all with one link.
Email share & Social Share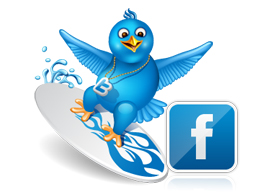 The created flash flip book can be shared! Once you publish created flip book from PDF to Flipbook on website, you and your readers can easily share the flash flipbook with others by click the "email" and "social share" button on toolbar. Convenient for you and your readers to share the flip book on Facebook, Twitter, Google+, MySpace and others popular social website.
More see: Social Networks Sharing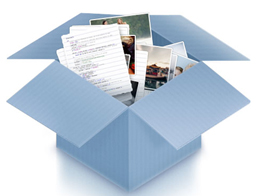 Flip Book Projects
Each project includes all the necessary FlipBook conversion settings and images. Manage several projects at a time, it is convenient if you want to upload more than one flip book on your websites. All your settings will be saved for future usage. And you will be able to return to your converted flip book at any time to continue working on it.
Free eFlip product updates for life!
Buy once, use forever
This might be hard to believe but buying eFlip not only gets you the latest version but all future eFlip updates free.
eFlip Lite is desktop software that you can locally install on a PC computer. Unlike other online Flipbook creation services, it gives you total control of the whole production and has no limitations of the number of ebooks. With it, you can create as many interactive online flipbooks as you wish for your own company or for your clients, and all features are included.

Key Features:
There are so many characteristic of our flip series products. Here are some key features of "eFlip Lite":
1. Import RTF&Image
Browse and open your object RTF and image files, turn to flash book;
Set page ranges of RTF Text and Image to import and convert, from all pages to custom range;
Set page quality and size, contains five levels;
Import Links, Bookmark to converted flipbook;
Enable Search, import content of your ebook together and enable users to search keywords directly;
Detect wide pages, cut landscape pages into two portrait pages to spread in flip book.
2. Publish Options
FlipBook for online or Offline, depend on the output types you select.
HTML option: check it to make online Flash Flip book;
EXE option: build execute program with detail company info;
APP option: App Flipbook support for viewing on Mac;
ZIP option: Offline file easy for email sharing;
FBR option: support for read on Free Flip Reader, easily and quickly;
Achieve to take along any time, any place after burn on CD;
Output mobile version HTML5 flipbooks to view in the browser of iPhone, iPad and Android directly;
To FTP Server: Publish the designed book to your FTP directly;
Screen Saver: Set the designed flipbook as your computer screensaver;
Email to: Send your designed flipbook to people directly via email.
3. Online Service
Upload Online: unlimited publishing book to online without FTP; 3GB of online storage space for Free host your 100+ eBooks and securely;
Manage Online: share online book link to email, social network. And edit the online book info easily, including title, description etc.
4. ToolBar Button Settings
Brand Flip book with Logo and Link;
Search function enabled;
Share eBook url via email;
Support sharing flipbook to social networks;
Insert background sound in flipbook to enhance presentation easily;
Enable viewer to download and print your flash flip book;
Write help info to show in Help Window, like how to read flip book, etc;
Flexible zoom options have been added: mousewheel zoom, double-click zoom, click flipbook buttons to zoom etc Mini mode supported;
Link to Google analytics tool by input Google Analytics ID to know page visiting data;
Enable readers to play flip book without action with using auto flip reading mode;
Set different languages to use for tips of buttons, also can allow users to switch between different languages;
Set different page number types Roman number for catalogue, Arabic for main body;
Add Annotations to explain the professional nouns.
5. FlipBook Design Tools
Lots of Built In Templates, Themes, Background Images and Scenes;
Online Templates, Themes, Background Images and Scenes for you to install;
Full Independent designs your unique Theme, Scenes and Background Image for later use;
Set background color with different gradient angle, from color A to color B;
Input beautiful image or your company's special background file to professional your flip book;
Set the toolbar, button, font color;
Define Thumbnail style;
Provide hard cover effect;
Read FlipBook from right to left;
Set preloader;
Use minime style to show e-books without toolbar or other buttons in small window;
Adjust page shadow position and size;
Change book proportions and book margins factor, for coordinate flip book's background;
Hide book frame bar, only display flip book;
Support Setting flipping speed;
Set Page Thickness.
6. FlipBook Security settings
You can set your personal password for all pages or exclude front pages to protect your e-books against unauthorized access;
Add Text, Logo, or Image watermark to protect your copyright.
7. Reading Modes
Hyper channel that enter into previous, next, first, last page, just press the corresponding arrow;
Use mouse wheel, keyboard to turn pages directly;
Bookmark can help you scan whole framework and then you can set font color to different from bookmark background;
Thumbnail panel, quickly find out which page to view and go to;
View Page Flip book in FullScreen Mode.
8. Other features
Integrate with BookCase to show the books;
Enhanced Preview Funtion to view Flash/Html5/Mobile/SEO version of Flipbook.;
Add lively Assistant and record audio to introduce your flipbook;
Quickly manage the PDF page in Page Control Panel;
Library use to statistic the number of Theme, Background and Scene;
Built-in Plugins resource for displaying news, photo slideshow, YouTube etc.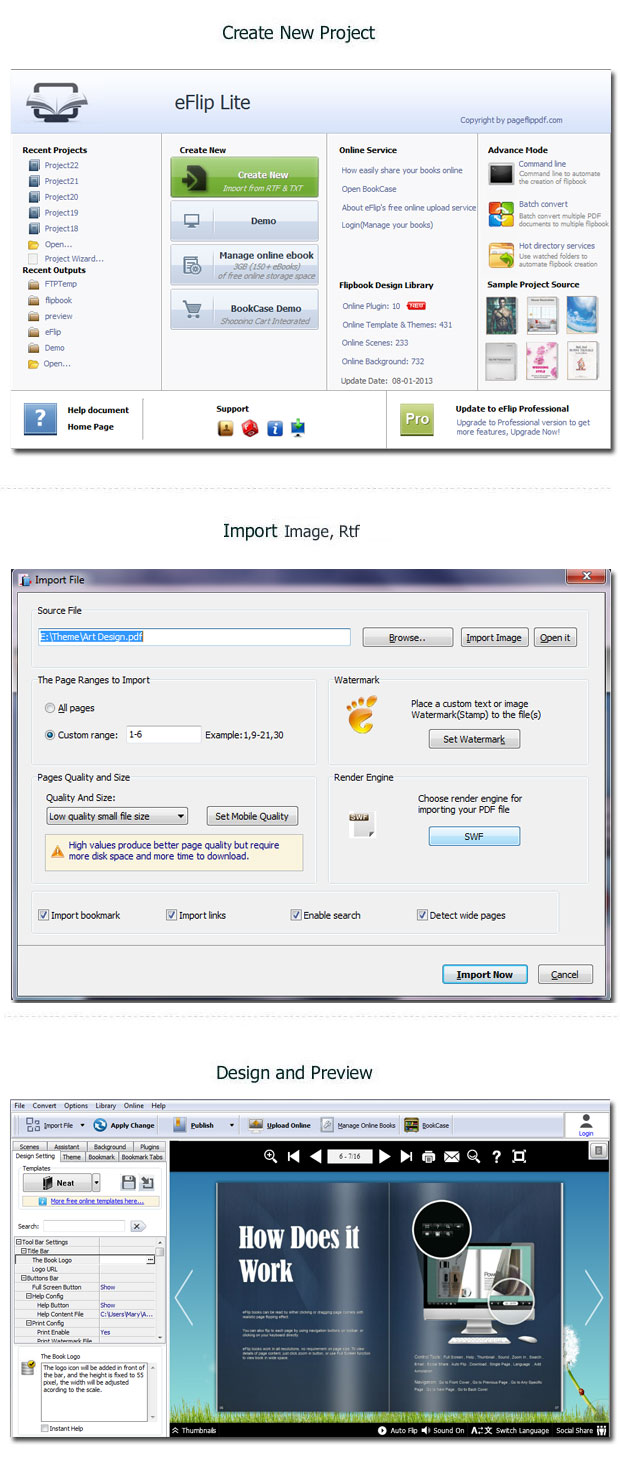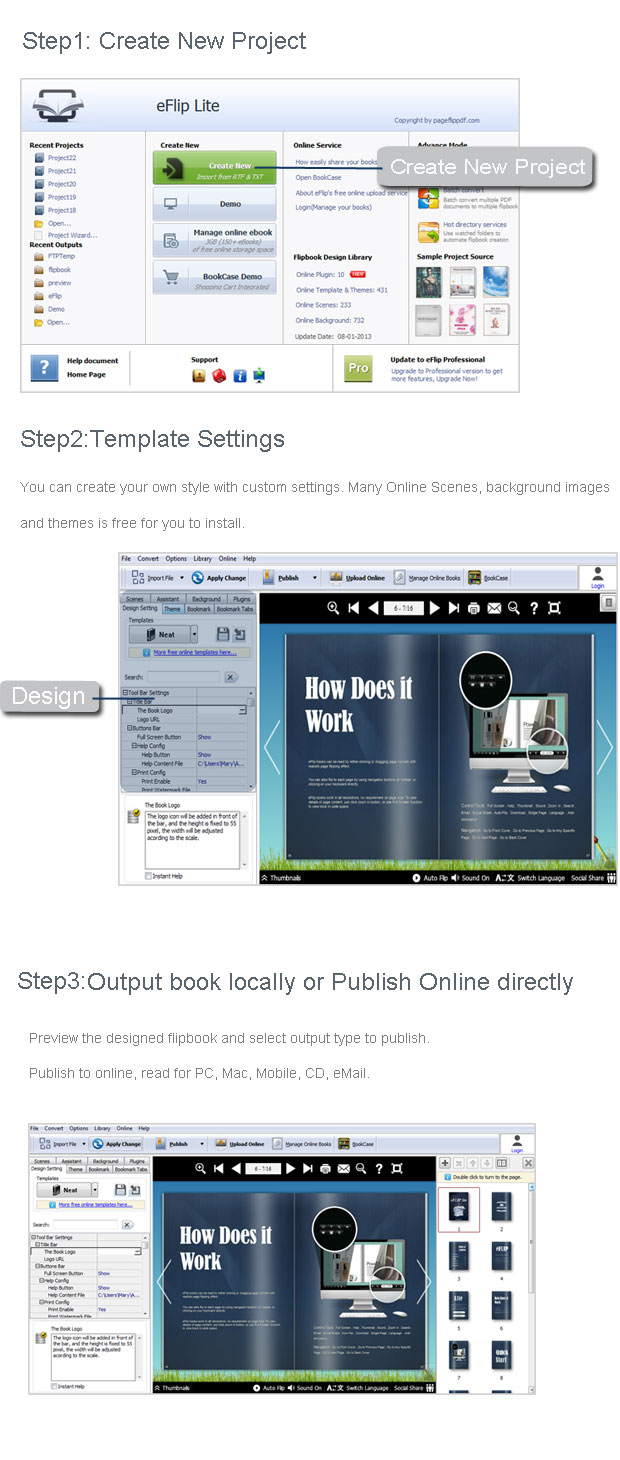 eFlip Standard vs. eFlip Professional


Item
Features
eFlip Lite
eFlip Standard
eFlip Professional

1

Convert PDF files to Adobe© Flash® based flip books

Image, RTF, Text Only

2

Create Unlimited Online Publications

3

Convert Microsoft Office (.docx;.xlsx;.pptx) and OpenOffice Document into digital publications with realistic page-flipping effect

Image, RTF, Text Only

4

Output formats supports generate SWF file, publish as HTML, flash flip book, output as EXE and save as screen saver, Zip, Mac App, Mobile version and Burn to CD\DVD

5

Free Online/Offline Distribution; 20 GB of online storage space for Free host your 1000+ eBooks and securely; share any publication instantly

10GB

20GB

6

30+ professionally-designed flip book templates, including shopping card, magazine templates, wedding templates and more...

20+

30+

7

Corporate Branding and Design - Users may customize their publications with logo, specific colors, link from page-to-page and external web links, and more for a personalized branding.

8

Publish flippbook on Mobile devices (iPad, iPhone, Windows Mobile, and Android OS) - Without installing any apps, or programming

9

Batch convert multiple PDF files to single or multiple flip books

10

Import bookmarks, hyperlinks, email links, from PDF and Office files

11

Add watermarks, text, image, dynamic date/ time

12

Add Image or Flash logo, company's logo to insert before Book caption in pre-designed flipbook template; Customize with your own Branding

13

Add HTML title containing hyperlink to webpage; Optimize keywords to target online search engines (SEO); HTML sitemap til Search Engine Optimization (SEO)

14

Customize template details such as margins, background images, page display orientation, cover type; Define template details, like book margin, background image, read orientation, hard cover, autoplay etc.

15

Add Help config to manually define content using images or SWF

16

Insert your own tracking code from your standard provider (e.g. Google Analytics) for visits of your online publication

17

Export and save flipbook designed settings or projects for future uses

18

Customize toolbar buttons to set permissions for downloading, printing, sharing and more; Customize the main toolbar (add, remove, re-arrange entries); Set permissions for downloading, printing, Home button and more ; Enable / disable each toolbar button; Fullscreen and Pageoverview controls; Sharing on Email, Facebook, Twitter..

19

Export and save settings for future use

20

Add Help config to manually define content with using Image or SWF

21

Choose from multiple languages for your flip book

22

Password protect your flip books

23

Add Minime style to display flip books without the toolbar

24

Support add Ad banner advertising to flip book

25

Include titles, keywords and other metadata for HTML output

26

Paging controls with forward, back, first, last; Turn Pages using your keyboard (arrows)

or curser; Turnable pages and navigation menu from right-to-left (Arabic / Asian)

27

Integrated, turn page click sound, upload your own sound (MP3); Background music (MP3), including volume bar in the online publication

28

Manage and share the books via using the wonderful and realistic BookCase tool

29

Save themes for later use

30

Select page turn left-to-right or right-to-left - perfect for Arabic and Asian languages

31

Replace existing icons on toolbar by editing Icon Flash file

32

Add new icons to toolbar with calling actions

33

Add About button to show contact or other information

34

Insert images\swf and pdf as a new page to the imported pages

35

Edit pages by adding links (web page/web/Javascript function)

36

Embed FLV movie and/or YouTube video

37

Add audio content to a single page to integrate jingles or podcasts of your advertising

customers to your FlipBook; Add background music for single pages as well for the entire FlipBook; Watching video while reading your digital publications

38

Embed SWF flash; Insert FLV movie, YouTube video to pages

39

Insert buttons on pages to link, call Javascript function, or play Flash or other video in pop up window

40

Use command line to convert PDF files without opening the application; Scripts in the command line; windows console to batch create flipbook in background

41

Insert static or dynamic text, single or multiple photo slideshow, lines, graphics, buttons

42

Call Javacript, add notes, highlight a specific area, set print area

43

44

Insert animated figure to narrate designated dialogue; record audio for your flip books

45

Set Language dialog box for flip book with multiple languages