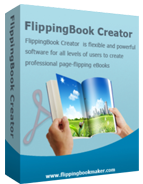 $99
For Windows 7, Vista, XP

PDF to Flipping Book for HTML5
HTML5 Flash Page Flipbook creates to sharing online!
Make flipping books with HTML5 from PDF files;
Conversion all of the PDF into the newly flipbook;
Advanced the look of the PDF with templates and themes;
Offers multiple navigation tools to make the reading easily;
Create the unique theme to decorate your flash book;
Simply read book info in any device, such as iPhone, iPad.
Free TrialBuy Now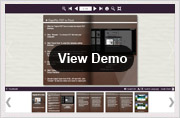 Flash Player 10.0+
PDF to Flipping book for HTML5 is the magic software for converting PDF to flash page flipbook. Nowadays, designers most like to present their product info with flash flipbook. And choose PDF to Flipping book for HTML5 to create your flipbook look like the best way, if you hope it compatible with almost all devices, such as iPad, iPhone, Android etc.

Let us learning some key features of Flip Book Maker:
1. Make your PDF look like a real book or magazine
If want to create flipbook effect for your website, you can convert static PDF to animated flash flipping book with Flip Book Maker. Once you published it online, people can flip the book page to view directly like a real book or magazine, without PDF Readers.
2. Conversion all PDF original settings to flipbook
After you importing the PDF into software, you will find that all of the original PDF settings have been converted into the new created flash flipbook, including links, images, words and layout. So that you can not need to spend time to do the same settings.
3. Suitable for iPad, iPhone, Android device reading
People increasingly prefer to read news and magazine on iPad. So to meet the need of iPad users, we should make the magazine suitable for iPad reading. Luckily, PDF to Flipping book for HTML5 provides multiple output formats for you to converting. With different output format, you can easy to read the book in different device. Like the HTML and Mobile version, if you choose those to convert, the converted book can be read easily in iPad or other mobile device.

Just download and take a try to learn more Flip Book Maker features.