$99
For Windows 7, Vista, XP

PDF to Flash Page Flip for iPad
Online Page Flipbook view on iPad convenient!
Powerful application for converting PDF to flipbook;
Make friendly book readable on iPad, iPhone, Android etc;
Visual Library feature used to present books in bookshelf;
Maintain all the PDF settings in new created flipbook;
Templates, themes and lively scenes provided for designing;
Enable share online or offline with different output format.
Free TrialBuy Now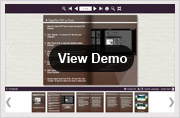 Flash Player 10.0+
Why designers love to show product info in realist page flipbook instead of PDF? There are many reasons in it. PDF is regarded as the standard format to presentation. Thanks to the benefit of easily reading and high-definition. However, PDF is also read-only file. It will be troubled when we need to modify the PDF content. And if you publish it on website, people need to download it and view with PDF Readers. This will greatly affect the reader's convenience.
More importantly, page flip book can be seen as online paper book. Make advertisement, magazine, publication to page flipbook can easily reduce the cost of publication. Indirectly, reduce cutting down of trees, so as to achieve the role of environmental protection. Speak too much, also want to make a page flipbook by your own? Then try to use powerful application, PDF to Flash Page Flip for iPad.
With using the Page Flip Software, you can convert PDF to realist page flipping book compatible with HTML5. View on the page flipbook, you will able to flip the book page in any device, such as iPad, iPhone, Android etc. When you import the PDF to software, you can rest assure that all the original PDF settings will be maintain in new created flipbook. Besides, you will obtain many template and themes to design the background of flipbook. According to you need, you can choose one of the output formats to converting, equal to enable book share online or offline. All in all, PDF to Flash Page Flip for iPad is the simplest and best PC application for designers to make realist flash flipbook from PDF.