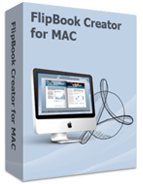 $99
For Mac OS 10.5.6 or above

PDF to Flash for Mac
PDF to Flash for Mac must be a best assistant for designers, to create page flipping book with PDF file on Mac. You can rest assured of the conversion, since for the original quality of PDF can be great preserve on flash flipping book. It is also easy to use and powerful software, no flash skill required and provides multiple designing tools for you to decorate. Choose one of the templates in software, you can easy to advance the look of your book, so that make a beautiful and interactive page flipping book for sharing online.
Free Trial
Buy Now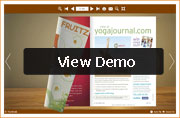 Flash Player 10.0+
Maybe you just find the way to make page flipping book or bring the turning effect on PDF, so you need to know which software can assist you with problem resolution. Fortunately, one of my favorite software named PDF to Flash for Mac, is a brilliant conversion tool designed for converting PDF magazine into page flipping book on Mac. And then open the page flipping book to view you will find that it has endowed with book page flip effect. Flipping the flash book page seems like to read real paper book. Once you publish it online, people can read it on your website directly without PDF Readers.
And PDF to Flash for Mac software is also powerful software provides various features to designing. If you want to create a unique aspect to match the look and feel of magazine, you can use those designing setting tools to make your own theme, different background image go with different toolbar color. Except for the aspect designing, you are able to show or hide buttons on book according to you need, like share to email, search info, fullscreen reading etc. Once you finish the designing, then you need to choose the output format to converting. HTML is adapted for online presentation. App is compatible for Mac platform. Here are the key features of Flippingbook for Mac software.
Key features:
1. Mac application for converting PDF to flipbook;
2. Easy to give the turning effect on static PDF;
3. Custom your own theme to match the look of publications;
4. Online presentation and offline email sharing to people;
5. Convenience reading with those navigation tools;
6. Standalone no requires other software to install.