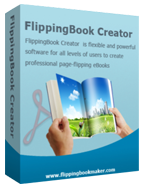 $99
For Windows 7, Vista, XP

PDF to Digital Magazine Software for HTML5
Are you going to make iPad ebook or bring turning page effect on PDFs? If you have many pre-designed PDF magazine, then you can easy to making beautiful iPad ebook with PDF to Digital Magazine Software for HTML5. The interactive flipbook creator is compatible with HTML5, allow you to convert static PDF into digital magazine in only a few steps. All the conversion just needs to import PDF into software, create your liked theme and convert to reading online or offline. What a simple and helpful tool for designers!
Free Trial
Buy Now
Flash Player 10.0+
Compatible for HTML5 read for iPad easily
To appeal iPad user attention, we should pay more attention to make our magazine reading easily on iPad. Give the convenient reading for iPad fans. PDF to Digital Magazine Software for HTML5 is compatible with HTML5, provides mobile version output format for you to converting. Once you choose it to convert, the converted book with many navigation tools can be able to read on iPad device easier and convenient.
Bring the effect of real turning page
View ebook on iPad is simple and convenient, but we can not flip the book page like reading a paper book. The conversion tool, PDF to Digital Magazine Software for HTML5 can bring the effect of real turning page on PDF ebooks. Just convert PDF to digital magazine with page flip effect in seconds. Then you can view the book on ipad by flipping the page, amazing and thoughtful.
Advanced look with Themes design
PDF to Digital Magazine Software for HTML5 offers many templates and themes in template panel. Different template can help to make different kinds of iPad ebook. Themes in here is designed with background color, images etc. You can choose any one to use, not require other expense. If you want to make other style theme that adapt for your magazine, you can use those custom setting tools to design your theme.
No matter you are professional designers or new one to use our software, you can easy to make iPad ebook in seconds. Because the Flipbook Creator is easy to use and no any Flash skill required. It is standalone PC application, also no need to install other software if you convert. All the conversion progress just needs you to do some click: import PDF, design and convert.