$99
For Windows 7, Vista, XP

PDF 2 Flash
Flipbook Software for making eye-catching flipbook!
Convert PDF to digital publication with turn page effect;
Display PDF in browsers like realist book, even PDFs like Library;
Sharing online or offline interactive book for people;
Convenient read if enable thumbnail or bookmark tools;
Safety setting for all book pages or each page;
No Flash skill or other software required.
Free TrialBuy Now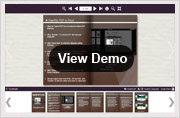 Flash Player 10.0+
Is there a way to display PDF in browsers like realist book? If you are a web designer, you may suffer this question. Fortunately, now the technicians have invented a technology to help you solve the problem. That is the fashion flipbook. Because once created flipbook, you can embed it on website like images, but it is a Flash animation, which enable you to flip the book page to read. View the flipbook you will have a feeling of reading a paper book.
So how to create the fashion flipbook? PDF2Flash must be your best helper. PDF2Flash is the affordable software designed for converting plain PDF to digital publication with turn page effect. It no requires you to know flash skill, just do some clicks to finish the conversion. All you need to do is to import PDF, design the background of book and convert to online or offline sharing book.
If you need a simple book, you can choose the neat template and change the background color. If you need a colorful book, you can choose the float template and add images as the book background. No matter what style book you want, you can easy to create with custom settings in Flipbook software.
And what the most different than other conversion tool, PDF2Flash provides online service and BookCase feature for you to use. With using these tools, you can upload your created book to online and put books in BookCase like Library.