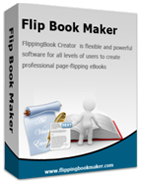 For Windows 7, Vista, XP

Page Turner Maker for HTML5
Completely free and simplest software for all users!
Awesome PDF txt to page turning book conversion tool;
Bring the flipping effect to static PDF txt format files;
Make different theme book, mini-book, reports and brochure;
Support for view on PC, iPad, iPhone, Android online;
Enable people reading easily with navigation tools;
PC application without any flash or other skill required.
Free Trial
Flash Player 10.0+
Reading E-books has already become a part of our life. The electronic version of books is more convenience to carry around. However, while reading E-books, you will have to admit that it is different with the traditional reading habits. We can leaf the paper book to read, but it can not do in E-book. The common reading way of E-book is just to drag the page up and down.
The good news is that there is a newly technology allow you to bring the flipping effect to static E-books. That is to make page turning book from E-book. If you have static PDF txt files, and take an interest in flipping book, you can use our best
Page Turner Maker for HTML5
software. It is all-in-one conversion tool which helps to convert ebook into page turning book with real flip effect. With the Flip Book Maker, you will be available to free download and use, without any other expense.
If you only want to present the book to others, you can use the design settings to make your wanted theme and unable show those buttons on book. Well, if you want more people read your book, you can enable show share button on book for appealing more readers. Once page turning book made and publish to website, people can easily view by flipping its visual pages online.
Make your E-book looked more like a traditional book, but still convenience and wonderful with Flip Book Maker.