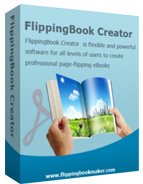 $99
For Windows 7, Vista, XP

Page Flip Book Creator for iPad
Professional Software to making iPad book with flip effect!
Convert PDF to page flipbook compatible for HTML5;
Easily view book on iPad, iPhone, Android mobile device;
Support for importing PDF link into created iPad book;
Make you wanted style magazine with design settings;
Search you wanted information on all book pages;
Enable social share feature to bring more readers;
No required flash skill or other skill while converting.
Free TrialBuy Now
Flash Player 10.0+
With the spread of electronic reader and intelligent mobile phone, digital reading form has transferred from wired network to wireless network of mobile reading online. Since Apple released the iPad tablet, then the electron update from single paperless to rich-media. As the users said, it is a real pleasure to read iPad ebook. In most of time, people use iPad to read ebook, convenience and enjoyment.
However, read ebook on iPad is different from reading paper book. We can not flip the pages and open it like a paper book. And if we want to read ebook on iPad, the common practice is to search ebook online and finish it on the iPad device. So trouble, isn't it?
To make it convenience for iPad fans, you can consider to making iPad books with page flip effect. And then present it online for all device users reading easily, especially for iPad users. Page Flip Book Creator for iPad is designed for converting PDF to Flipbook with real page flip effect. It is simplest PC application that only requires three steps to conversion. Just import PDF to software, design setting and converting to online or offline format. After created, you can publish online with our "Upload Online" feature. Even puts many books in BookCase as you like. When people open the link on iPad, they can view the book by flipping book page, without download any files.
Apply Page Flip Book Creator for iPad to make your friendly page flip book now!