Freeware
For Windows 7, Vista, XP

Free PageFlipPDF PPT to Flash
Convert PowerPiont to flash with wonderful animation effect!
Import and convert PPT to stunning flash.
Adding elements: blur, line, highlight, rectangle, text, arrow, and more.
Company logo, presenter information, layout, transition effect settings.
View thumbnail, zoon in, slide by hand, Reach attachment while playing flash.
If you would like to convert PDF to stunning flash flipping book, you can have a free try of PageFlip PDF to Flash.
Dowload PDF to Flash
Flash Player 10.0+
Free PageFlipPDF PPT to Flash is 100% free flash creator! You can use it to convert PowerPoint to Flash with HTML, EXE, ZIP format and publish it online to share with other or reading offline on local computer. With its user friendly interface and comprehensive designing function, you can publish stunning flash document. In addition, the flash will be able to zoom in, play audio, view thumbnail, view attachment and author information while watching! All this detailed effects are easy to create when designing. What's more, you can edit slides with adding simple art, texts or clip. There is another amazing setting for flash PPT. It's to set transition effect to slides. How fantastic animation the freeware will bring, try and download one!
Designing Functions:
1. Import and convert PPT to stunning flash.
2. Adding elements: blur, line, highlight, rectangle, text, arrow, and more.
3. Company logo setting: import logo and link.
4. Presenter information: name, email, website, info, photo.
5. Define layout for flash: Slide List, Author info, Logo.
6. Import references and attachment: link and file.
7. Set transition effects, transition time and retain time.
8. Record audio or add audio for flash PPT.
9. Preview flash when finishing designing.
10. Choose output format: HTML, ZIP, EXE.
Output Features:
1. View thumbnail for every PPT silde.
2. Support to zoom in.
3. Support to slide by hand.
4. View author information and visit his website.
5. Reach attachment.
6. Watch flash in fullscreen.
Screenshot for Free PageFlipPDF PPT to Flash
As you can view in the Free PageFlipPDF PPT to Flash, PDF become the simplest flipping book that is stunning with page turning effect and some useful reading and sharing supported functions. If you are interested in wonderful flipping book, which will bring you more unforgettable reading experience and eye-catching eBook layout, you can download a flipbook creator to have a free try: PageFlip PDF to Flash (convert PDF to stunning flipping book).
Screenshot for PageFlip PDF to Flash: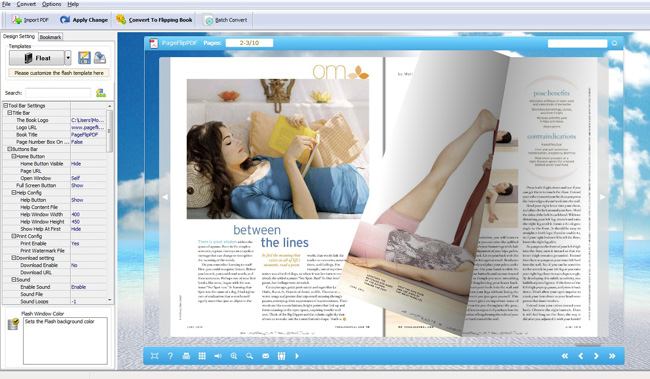 Know More about Our Flip Book Products:
Easy make flipping book, e-books, publication, digital magazine with PDF files.
Help you to convert PDF to page flip with multimedia objects integrated.
Make you ease to turn your PDF files to flash book without anybody help on Mac system.
PageFlip PDF to Flash Pro Mac:
Turn your perfect PDF file(s) to digital book with page flip effect on Mac operate system, you can add many multi-media objects on pages.