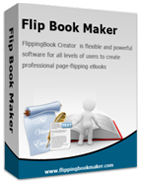 For Windows 7, Vista, XP

Flipping Book Software for HTML5
Free Software for making HTML5 magazine!
If you prepare to make HTML5 magazine or add flip page effect for PDF TXT file, all it can do well with Flipping Book Software for HTML5. This Flip Book Maker is totally freeware. It can help to convert PDF into flipping book compatible with HTML5. All the conversion progress just occupy several minutes. And what's more, you can control all of the conversion, no matter the style of magazine, choose which output format, also import txt and link or not etc.
Free Trial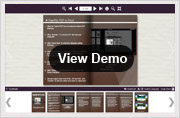 Flash Player 10.0+
What do you think this software is intended for? Flipping Book Software for HTML5, as the name saying, is designed for created flipping book which compatible with HTML5. If you publish the created book online, people can not only read it on PC, but also support for view on iPad, iPhone or Android device.
You will find some amazing things when read the flipping book for HTML5. Flipping book is better than the static PDF files, it enable you to flip the book page like a real paper book. And if you need, you can show some practical buttons on flipbook while converting, such as interactive share feature, auto flip the page, or thumbnail to guide people read easily etc.
Compare to static PDF magazine, I think your readers will more like the novel flipping book, especially for young people. Now, use Flip Book Maker for HTML5 to make your wonderful HTML5 magazine with page flip effect and share to readers online or offline easily. All of the conversion only takes you several minutes. You just need to import file to software, design and set the functions, and converting to online or offline. Most worth happily is, Flipping Book Software for HTML5 is totally freeware, not require any charges. The template in software is free, those features in software is also free. You can be at ease download and use.