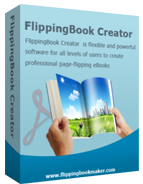 $99
For Windows 7, Vista, XP

Flipping Book Image Gallery Maker
Nowadays, people all prefer to save digital memorable photos to file. So ensure it would not go bad. To make it funny and living, some of people create animation with those photos. However, view the animation is different from enjoy paper photos in album, since for we can not turn photos. Flipping Book Image Gallery Maker is designed for helping you make flipping photo album with page flip effect. Flip the photos album you will feel like view a paper photos.
Free Trial
Buy Now
Flash Player 10.0+
Quickly Convert PDF to flip photo album
The page turning software is conversion tool used to convert PDF into flip photo album. All conversion progress only takes some minutes, need you do three steps includes: import PDF files to software, design it to you wanted style and convert with online or offline output format. Once done, you can flip the photos in album like viewing a paper photos.
Bookmark and Thumbnail Guide Tools
All of them are designed for helping readers find their wanted pages in the fastest time. View of the bookmark, you can realize the main content of each page. And about thumbnail, you can preview the layout of pages easily. No matter bookmark and thumbnail, they all allow you to click any pages and then open the detail pages to read.
Support for reading in any device
Complete conversion progress in PC platform. With different output formats, the created photos album can be read in different device. Output it with HTML only, you can enable view on PC or Mac. If you also make the mobile version option, people can read your flip photo album in iPad, iPhone, Android mobile device.
Enable multi-language in Flip photo album
For the convenience of viewing flip photo album, setting multiple language choice is very good for non-English readers. Apply Page Turning Software to create flipping book, you will be able to set the language of button and add one or more language choice for people switchable. What a helpful and powerful tool it is!