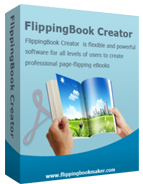 $99
For Windows 7, Vista, XP

Flip Catalogue Software for iPad
Vivid Catalogue with page flip effect for iPad!
Support for view on iPad or other mobile device;
Helpful PC designing tool to create flip catalogue;
Turn page in Flip catalogue like a real paper book;
Animation effect show on flipbook with auto play;
Different style templates to make kinds of flipbooks;
Standalone application without other software required.
Free Trial
Buy Now
Flash Player 10.0+
Still remember to make "flip book" when we are kids? It is so funny and easily to do, just prepares some papers with the same size and draw images in every paper with slightly changed. You can draw any action you want, like walk, snow, talk etc. After that, turn the "flip book" page to view the paper animation must be an interesting thing for your children.
As the popularity of iPad among young people, more and more people begin to explore one technology, which enable show the animation effect on iPad. Right, it has appeared, PDF to flash page flip book for iPad can meet your request. You can view it on iPad or other mobile device. You can leaf it like a real paper book. You can auto play it like playing animation. So, how we can make the iPad catalogue?
Here we are recommend a PC application, Flip Catalogue Software for iPad. With this Page Flip Software, you can convert PDF to flipping catalogue in just few steps, for iPad users reading. Many guide tools in the converted book, will help people easily to read. And once you have the legitimate page flip software, you will obtain different style templates in software, to help you make professional, simplest, classical or wonderful page flip book.