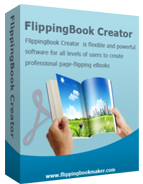 $99
For Windows 7, Vista, XP

Flash Book Flipper for iPad
Affordable software for making iPad iMagazines with PDFs!
Powerful PDF to Flash Flip Book conversion tool;
Support for view on Mobile device, iPad, iPhone, Android;
Multiple tools help to design your flash flip book;
Lots of template, themes and 3D scenes in software;
Upload converted book online in software quickly;
Present books on BookCase and manage it easily.
Free Trial
Buy Now
Flash Player 10.0+
iPad, as the popular Apple Mobile device, have been widely used in our life. Thanks to its convenience and good-touch feeling, people always take their iPad to watch video, enjoy music, read ebook, realize the latest information etc. Especially taking bus or subway in commuter time, you will find most of the people are low head, not in thinking, but enjoy with iPad.
Nowadays, businessmen gradually realize the importance of launch Mobile marketing. And most of them have taken some valid measure to capture the Mobile marketing. In front of so many competitors, how to stand our between them and capture the Mobile marketing quickly? The most important is to find a unique way to display your magazine, different from other competitors.
iPad iMagazine is flash flip book for iPad, which you can use to display advertisement, product info, company info, and web links. It is the best way to presentation, better than PDF, PPT slideshow. Because iPad iMagazine enable you flip the book page, like reading a real book. Except for that, iPad iMagazine also have the powerful functional buttons for people search, share, zoom in/out etc. To make the interactive iPad iMagazine, you should prepare for some PDFs with the content you need. And install our Flash Book Flipper for iPad to convert it into flash flip book for iPad, only in three steps.
For making your iPad iMagazine more realist and attractive, you can use the feature of Online service and BookCase in Flash FlipBook Software for iPad. Just upload the converted book online and present it on BookCase. It will give people the feeling of reading in Library.