Set book frame bar to quick click to turn flipping book page?
When you start your new installed PageFlip PPT to Flash, you will find nothing with the eBook margin. That's because the book frame bar has been hidden while designing. You can make a little change for this option to let out book frame bar. In this case, you can quick click the frame bar to quick turn flipping book page instead of dragging its page or clicking flip button in the tool bar of the flash book window.
The setting option is display: Design setting panel > Book > Hide Book Frame Bar.
There are two options in this setting item. Choose "Yes" to hide the eBook frame bar and choose "No" to Show the eBook frame bar. Click "Apply Change" to active your setting and use the eBook frame bar to help you turn page.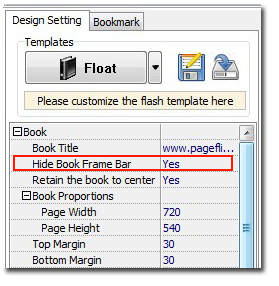 Download PageFlip PDF flipbook software to have a try now >>
PageFlip PDF to Flash Professional >>
PageFlip PDF to Flash Professional Mac >>