How to set hard cover for classical flipping book?
Are you sick of the single flipping effect of the flash page turning book? Are you finding it no creation to send to your friends or publish online with the same effect? There is another flipping effect that you can choose to take place the exited one in eFlip Standard (Professional). It's hard cover effect. The effect make the flip page become hard and it will be another feeling to the flipping book.
Step1: Start eFlip Standard (Professional) and choose Classical template.

Step2: Tick "Yes" in "Hard Cover". It's under the path: Design Setting > Flash Display Settings > Hard Cover. That means you allows hard cover in the flipping book.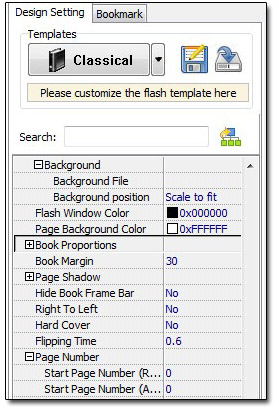 Download eFlip flipbook software to have a try now >>