How to make your flipbook background transparent?
There is transparent background setting in the eFlip Standard design setting. The setting path is "Flash Display Setting >Background Alpha". However, few people know how to use this function and why we make our flipbook background transparent. What's the benefit? If you make your background transparent, the background image won't be shown in the flipping book when you publish it online. But you still can find the image code in the HTML format. In this case, you can keep your image and make it other unavailable for others to protect your image.
Step1: Find out Background Alpha in the design setting interface.

Step2: fill in the blank form with values. The values should be between 0 and 1 to control the transparence of the background in the PDF to flip book. 0 means completely transparent. When you embed the book in other HTML page, it will show the background of the HTML only.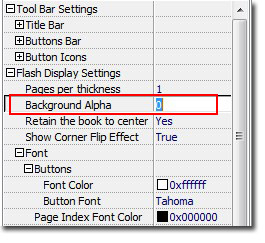 Download eFlip flipbook software to have a try now >>