How to import a logo to your flash flip book in neat templates?
If your PDF to flip page book is used in commercial field, you may need a logo that represent your company in the corner of the flip page book. Here is some suggestions to help you learn how to add your company logo to the digital flip book, what's more, If you want a bigger one which makes it more obvious than others, you can choose Neat template and the detailed steps are as below.
Step1: Open your eFlip Professional and choose Neat template from top of 'Designing Setting'.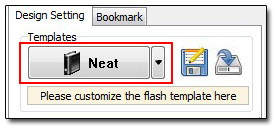 Step2: Move to 'Tool Bar Setting' panel in the 'Designing Setting'. Choose a logo from you computer through 'The Book Logo'. Fill in your URL link from 'Logo URL'; don't forget to press 'Enter'.

Step3: Apply Change in the end. You can see the effect as below.
Download eFlip flipbook software to have a try now >>