How to hide book frame bar of flipping book?
In Classical template of eFlip Standard, there is a setting function to help you hide book frame bar, which drive the digital flipping book more realistic. Some people would like concise interface and book layout. Some are like the one with little tool to help them use flipping book. The book frame bar for flipping book plays the important role to help people flip pages. However, if you don't need it and want to simplify the book layout, you can hide it.
Step1: Search out "Hide Book Frame Bar" button.
Step2: Choose "Yes" in the option. That means the book frame bar is not visible.
Step3: Apply change in the navigation bar.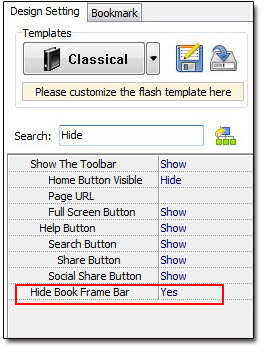 Download eFlip flipbook software to have a try now >>