How to embed translucent image for flipping book?
Would you like to create gleamingly effect for your flipping book page with images? Would you like to design different style for your inserted paint? Here will introduce how to change images transparency when you inserted in flip page. No matter where you want to use the flipping book, you can take a notice of this setting option. Maybe you will need it in the future flipbook designing.
Step1: Click "Edit Page" in tool bar of eFlip Professional.


Step2: Select "Add Image" to draw effect frame and insert an image.

Step3: Change the number in the bottom form of "Image Properties" menu.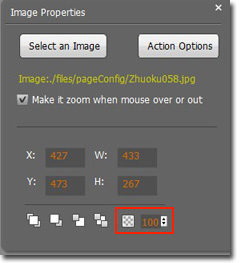 Step4: You can compare the effects before and after changing transparency.
Download eFlip flipbook software to have a try now >>