How to define open window format for link in flipbook?
There will be some links in the flipping book if you have allowed importing link when you are importing PDF. However, have you thought of what the open window will be when you click the link? If you are a scrupulous person and consider your PDF to Flash book readers' using experience, you will find there will be some different between opening a link in new window and opening a link in the same window. You can just define this open window format for your flipping book link. Here are the steps.
Step1: Run eFlip Standard. Make sure you have ticked "Import Link" when you are importing PDF.

Step2: Turn to "Design Setting" interface and choose "Blank" or "Self" in "Flash Control Settings>Links>Open Window". Blank means opening link in a new window and Self means opening link in the same window of the flash.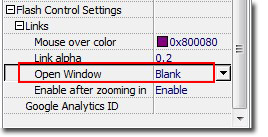 Download eFlip flipbook software to have a try now >>