How to change the proportions of flipping book?
As we all know, not all the PDF file are with the same size. Some may looks more width, but some may look squarer. A suitable proportion for flipping book can make the text more inviting and call attention to the message. This is important for vision of flash flipbook readers. Nobody likes to view a digital publication with unsuitable vision. If the proportion is not right, you will find some gaps in the book margin. In this case, we are required to create right proportion when we convert PDF to flash flipping book. Here are the steps.
Step1: Run eFlip Standard. Find out setting path of book proportions: Designing Setting>Flash Display Settings>Book Proportions.

Step2: Fill in the blank with a suitable proportion.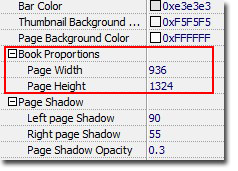 Step3: Click "Apply Change" to have a review.
Pay attentions! If you don't know what the book proportion is, you can find it out with some smart method, such as using screenshot tool to view the proportion.
Download eFlip flipbook software to have a try now >>