How to change the page flipping direction?
In classical template, there is a setting function aiming to change the flipping direction for your flipping book. This is something human for different people with different reading habit. Some are likes to read from right to left and some are like to read from right to left. In this template, there is more than one reading direction that makes your PDF to flash book flipping freely from right to left or left to right. Now the detailed steps are here for you.

Step1: Start eFlip Standard (Pro). Choose Classical template at first.

Step2: Find out "Right to Left" option and choose "Yes" or "No" according to your needs. "Yes" means you allow the eBook to flip from right to left.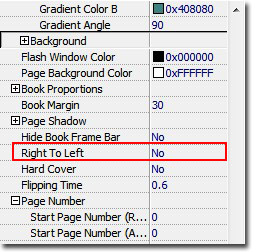 Download eFlip flipbook software to have a try now >>