How to change the flipping speed in flipbook?
When you click next page button of auto flip button in the flipping book, you will find there is a flipping speed exiting. If the speed you set too high, it will lead to an unnatural flipping style. How important a flipping speed is. A suitable speed will make you flip eBook more gentle when you turn the flip page automatically.
Step1: Run eFlip Standard.

Step2: Change the number in "Flash Display Settings>Flipping time" in the design setting options. This option means setting page flipping time in seconds. 0.6 second is recommended in the software.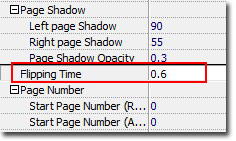 Step3: Apply change in the PDF to Flash navigation bar.
Download eFlip flipbook software to have a try now >>