How to change display color when your mouse move over a link?
Every time when we move our mouse over a link in the PDF to flash book page, we can see a kind of color will occurred to light up the link. This is a way to tell you that it's a link and you can click to get more information. However, it's details and I guess you may never take notice of the color which you can change as you like.
Easily follow the steps below!
Step1: Run eFlip Standard. Click "Import PDF" to enter the setting dialog. Tick import link option to allow links in the flipping book page.

Step2: Click "Flash Control Settings>Links>Mouse over color" to change to color of the link.

Step3: Apply change at last.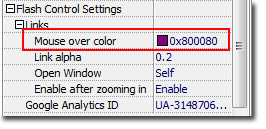 Download eFlip flipbook software to have a try now >>