How to enable searching key words in flipbook?
When you open your flash book which converted by eFlip Professional, you will take notice of the eBook page corner with flip effect. The flip effect vivid the flipping book and gives it the more book-like layout. Absolutely, sometimes we want to cancel the effects, just make it static digital book. That is no problem to achieve in PageFlip PDF to Flash Professional.

Step1: Launch eFlip Professional.

Step2: Find out corner flip effect setting path: Design Setting>Flash Display Settings>Show Corner Flip Effect. Select whether you want to show page corner flip effect or not. Then click "Apply Change". If you choose True means you want to show the flip effect, if you choose False that means you don't.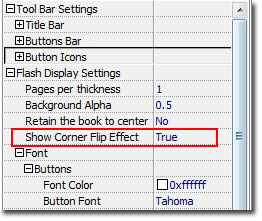 Download eFlip flipbook software to have a try now >>