How to add background music to page flipping book?
When you are reading a real book, you may prefer to listen to music with earplugs. In the same way, you may enjoy reading a digital flash book with light or active background music. It OK for you to set your favorite music as the background sound when you convert a PDF to a flip flash book. What's more, you can control whether to play or not while you are reading flipping book. The steps are as easy as below.
Step1: Run eFlip Professional with its Neat template. Enter the 'Designing Setting' panel and find out 'Tool Bar Setting>Buttons Bar>Sound'. Choose 'enable' in 'Enable Sound' to make background music available.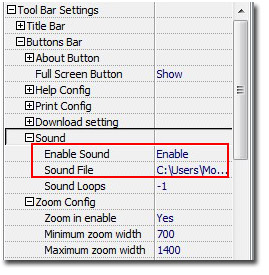 Step2: Click option button in 'Sound File' to select a suitable one for your PDF to flip flash book.

Step3: Don't forget to apply change after finishing setting.
Download eFlip flipbook software to have a try now >>