Easily delete pages of shopping flash cart?
Hello can we delete pages of PDF before publishing PDF as shopping flash cart by your page flip software of PageFlip Shopping Flash? Or should we delete pages of PDF file before we use your page flip software to create shopping flash cart?
Hi you can edit PDF shopping flash cart with deleting pages flexibly by the page flip software.
You can easily go into the edit shopping flash cart interface with clicking the menu bar of "Edit Shopping Cart".
Then you can select the pages you would like to delete, and click delete button to delete them with ease.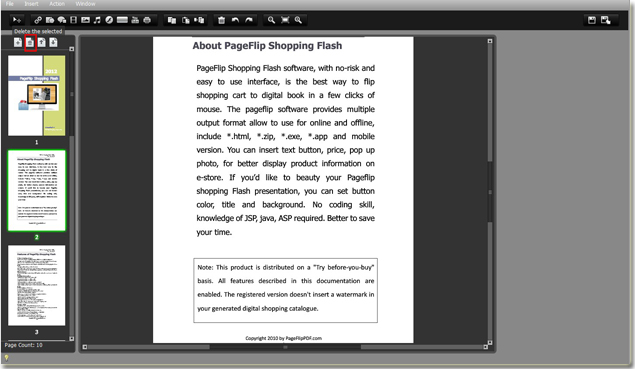 Lastly, save and exit.
Free Download Flash Shopping Cart Software: PageFlip Shopping Flash
Download page flip software to have a try now >>
PageFlip PDF to Flash Professional
PageFlip PDF to Flash Professional Mac