Can I hide the tool bar of the flipping book?
When I convert PDF to flash flipping book, I always get a digital publication with a tool bar which full of functions. Without the tool bar, the flipping book interface will be concise. I just want to make it a digital book without anything that people can read it and can't do anything with it. Is that possible or how can I do for such flipping book?
This is all right in eFlip Standard. You should do some setting at first!
Step1: start PageFlip PDF to Flash and Click templates to choose "Classical template".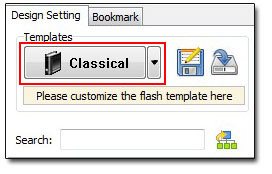 Step2: "Show The Toolbar" is the option to decide whether you want to show your tool bar in flipping book or not. Choose Show and apply change you will get the tool bar. Choose Hide, it will disappear from the digital publication.
Download eFlip flipbook software to have a try now >>