Can I design my 'help' icon in the flip book?
Every software, website or digital products all have 'help' content to help and assistant their users. If someone meets problems by using your PDF to flip book, they need help. What you can show them directly is the help button on the flip book tool bar. Even more, you can predict the most common problems and write down solutions. That will be convenient to your flash book readers, isn't it?
Step1: Run eFlip Standard. Move to 'Tool Bar Settings>Button Bar>Help Button' and choose 'Show' in 'Help Button' option.

Step2: If you want to design the help content by yourself. You can make it an image of png format. These two formats are supported in the PageFlip PDF to Flash software.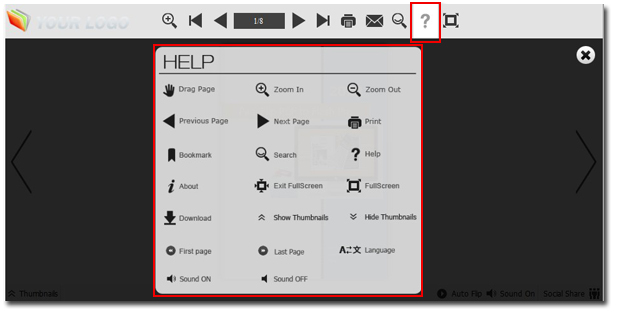 Pay attention:
If the help content is empty, Help Button will not be shown in the flipping book.
Download eFlip flipbook software to have a try now >>