Publish Flip Book Online Freely for Marketing
Online marketing plays more and more important role in today's marketing competition. We cannot ignore its significance. Flip book, as a kind of new tool for marketing, will bring people surprise with its page flip effect and multimedia content. People who use it in their work simply need to prepare PDF original file and PageFlip PDF to Flash Professional software. Then use the software to convert PDF to flash flip book with easily steps. The page editor in the software will help people add rich multimedia content to improve content attraction of PDF.
With such digital book published online as part of company website, the traffic will be improved and more lively way to help marketing will be shown online. Customers can easily learn products, company news, company information through this page flipping brochures. They can drag to turn page and gain interesting reading experience in this interactive digital book. They can watch video, listen to audio, view pop-up products images and choose other reading methods in this digital book. They can use bookmark or lively thumbnail to quickly find out targeted content. They will have no need to download while reading online. All the efficiency of information delivery will be improved after all this is done.
With such flip book, users can display website links or even download links and purchasing links in the eBook. Customers can use the book to buy what they want and contact sellers directly after they have comprehensive understanding of targeted services or products. Full services will be offered through such online eBook!
PageFlipPDF Software, the provider of PageFlip PDF to Flash Professional, aims to delivery PDF to flash flipbook tool to help more people get success with their dreams. The website is http://www.pageflippdf.com. The manager said, they welcome who give suggestions to their software and tried their best to improve the software according to users' needs. It's good news for any users!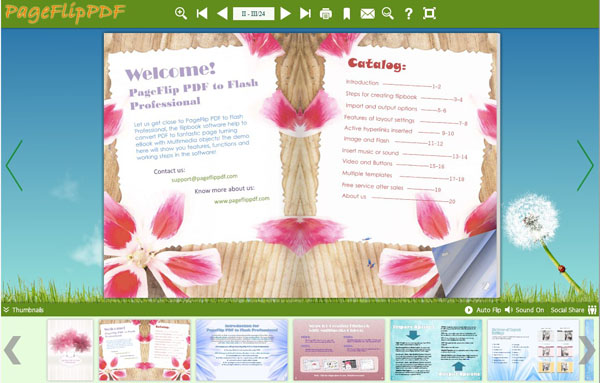 Get to our PDF to PageFlip Book software:
PageFlip PDF to Flash Professional >>
PageFlip PDF to Flash Professional Mac >>