How To Use Four Templates To Design Your PDF To Flip Book
– Use PageFlip PDF to Flash Pro Smartly
Designing Your PDF to Flip Book will be an enjoyable activity when you convert your PDF file into a flip eBooks. Absolutely if you have a great template which fits your flip book, you will save time and win a good beginning for the eBook designing.
When you run PageFlip PDF to Flash Pro and enter 'Templates' select entry, you will find four main templates in the interface. Yes, that's the basic options for you to decorate your flip book. I will intrude these four templates for you.
Classical templates: It's unadorned style for your flip page book, you PDF to flash book will be shown in the middle of the interface and it make it available to draw all attention of your eBook views. There is a small too bar in the bottom. And even if you don't need it, you can hide it to keep it more concise when you design your page turning book.
Float templates: This template brings you more function to your flip book interface. You can show your website address in the top of the flipping book. There is a reaching frame on the right corner of the floating window. The outer and inner backgrounds will bring you brilliant background effect. Of course you can adjust toolbar position as well.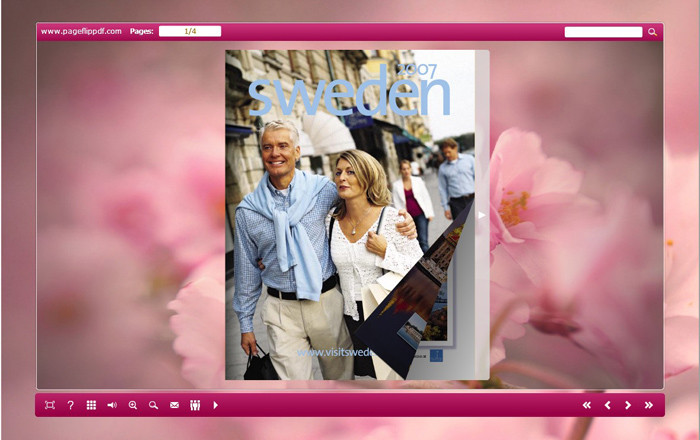 Neat templates: This stylish and fresh template is different from the above two. The biggest features are to help you add your company logo in the obvious position and you can have transparent thumbnails showing way in the flip book. All this will help you build your neat publication.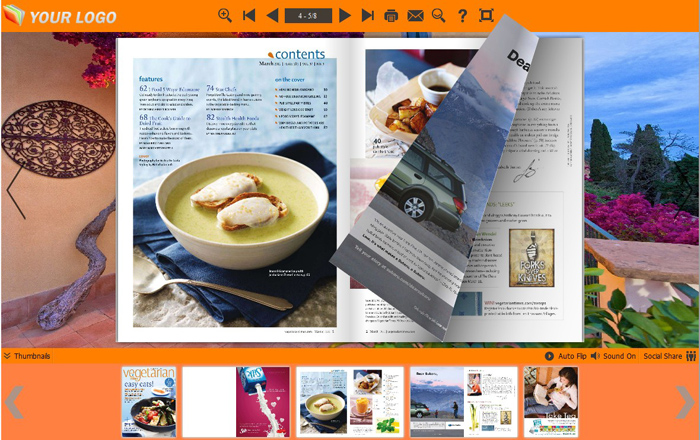 Spread templates: This template change the toolbar position. It keeps the toolbar on the left and top of your flash flipping book. So if you don't want to show the toolbar on the bottom, you can try this Spread template. It will give your readers another view feeling.
You can choose one of these templates according to your needs. Then make a further design for your digital book. Such as import images as a background picture and change toolbar color.
Get to our PDF to PageFlip Book software:
PageFlip PDF to Flash Professional >>
PageFlip PDF to Flash Professional Mac >>