How to make a PDF to flash flipping catalog with video in it?
Do you want to make a digital online publication with realist book-like layout to show your distinct theme with rich content? I think many people would like such ways to share what they want to share with others. For example, if you are a food lover, you may like to collect delicious food information from all over the world and share to other. But, do you find it boring to show a serious of pictures with descriptions that many people would never like to follow a long text to teach them how to cook of how to find the delicious food. But video here will play an important in showing other information directly and vividly. People will understand better since the lively video and the oriented background sound.
Do you know PageFlip PDF to flash professional? This is the flip book tool to help you create a PDF to flash flipping catalog with video in it. You can design a PDF with the basic content then import it in PageFlip PDF to flash professional to edit which can add vivid elements to flip page.
Let's take food topic as an example. You can produce a cooking tutorial by yourself, and you can gather different cooking techniques from different place. Then display it in the page of the flipping catalog. It will be clear at a glance that all kinds of cooking style are here for reading. Your flash flip book readers will be likely to choose the style they are interesting in and view the video directly. Isn't it easy to make high quality flipping catalog?

Look! There are two basic options to insert videos in PageFlip PDF to flash professional:

Option one: Add video directly. Click "Add Movie" to select one from your computer.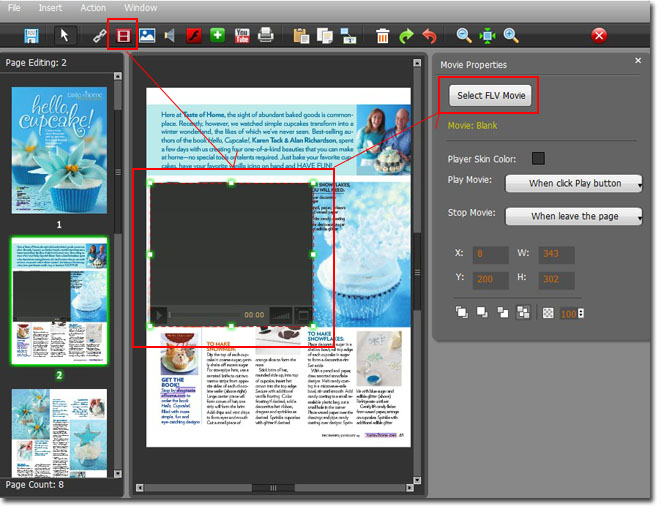 Option two: Click "YouTube" to insert a YouTube video from outside. Copy the video ID and paste it in the "Video ID" in the YouTube Video Properties Menu.
Get to our PDF to PageFlip Book software:
PageFlip PDF to Flash Professional >>
PageFlip PDF to Flash Professional Mac >>