Create Stunning Images Flipping Album for Photos Quickly
While camera and mobile phone which can take photos are popular and widely being used today, more and more people can record their wonderful moment at anytime and anywhere. Absolutely, quantity of photos become huge and people will prefer to collect the high quality ones and sorting in album or uploading to personal space online or offline. A way to help people create a funny and personalized images album will welcome for any one. Here PageFlip Album to Flash is a tool which developed by PageFlipPDF Software with the flip book creating functions from messy photos to flash flipping images album.
In PageFlip Album to Flash, photos can be display above background which can be designed by own. There are a useful resource library in the album flip software to support users add clipart, light, photo frame, text, or change mask with multiple options. Of course there are many basic options in PageFlip Album to Flash to guarantee the basic appearance for the future page flip album, including page size of album, new page setting, save and print function, redo and undo action. Last but not least to mention, PageFlip Album to Flash allow users to import resource by themselves. To consider resources in the software can't satisfy all flip album users, the personalized option for importing resources will help create more lively flipping album with own style. With all designing finished, users can convert it into flip book with page turning effects. Even more, the work can be published online or offline. In this case, a digital eBook are born for memory.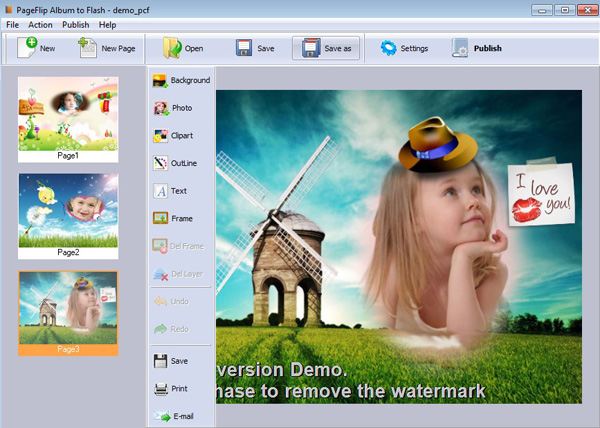 As technology flying and the knowledge of people improving, more and more people will keep pursuing fashion and Individual style for things like photo album. Flip book photo album will be a good choice because it is more than a digital book or image album. It's a great combination of eBook and album that brings to people more than reading, but sharing and interaction.
If you want to know more about PageFlip Album to Flash, you can visit: http://www.pageflippdf.com/pageflip-album-to-flash/index.html. What's more, PageFlipPDF Software provides a series flipping eBook creators for any needs, here is the detailed information: http://www.pageflippdf.com.
Get to our PDF to PageFlip Book software:
PageFlip PDF to Flash Professional >>
PageFlip PDF to Flash Professional Mac >>