Can I change the PDF to flip book software language?
When you are not a native English speaker or you are a person know little about English, you would find it little difficult to read an English page flip book. But don't worry here. There is no doubt that you can change the flip book language frequently according to your needs. You need to do some settings before you convert PDF to flip flash book.

Step1: launch PageFlip PDF to Flash Pro, choose "Yes" in "Tool Bar Settings>Buttons Bar>Language>Switchable". This will enable to change flipbook language when you need to change it to fit your readers.

Step2: select language. Click "Language" to enter the language editing interface. There are several existed languages to be chosen: English, Arabic, Chinese, French, German, Greek, Italian, Japanese, Portuguese, and Hebrew.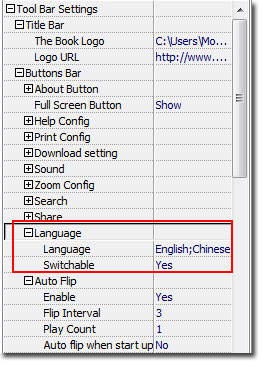 You can check either of the language. Then the language options will be shown in the flash book when you click switch language button in the flip flash book. The first checked language on the top will be the default language in the flip book.
If you find the existed language is not enough, you can edit a new one.
How to edit a new language?

Step1: add a new language and name the new language. Then check it.

Step2: Do you find the language settings in the right side of the interface? Those are the labels which will be display in the flip book when you published. You can edit the name of the label with your own language in the related form on the right side. Then click OK to save and apply the new language.

Of course if you want to save it as a file, you click "Save" and choose the path. This will be convenient for you use if you reinstalled your software or something happened, such as losing your settings. You just click "Load" to import the file you have saved to get the edited language.
Get to our PDF to PageFlip Book software:
PageFlip PDF to Flash Professional >>
PageFlip PDF to Flash Professional Mac >>