FREE
For Windows 7, Vista, XP

City Lines Theme for eFlip Software
Free download book template in eFlip software
Fantastic backgrounds and flash bar design to make awesome work.

Share books with friends have become easier than ever.
User friendly operation for anyone who use our products.

Download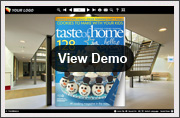 Flash Player 10.0+
City Lines templates for eFlip programs are 100% free here!
The online free template for digital magazine creator here is City Lines style pack. Some may feel sterile after staying for long in city. But you can discover some interesting things if you have keen sight. In the City Lines style pack you will see special line views of constructions. You can now get it online for free and apply to your page flip publisher. Make rich content book works for your readers and clients. Also check for more information and theme updates in the free themes section.

These templates include three styles and it's suitable to use in travel digital magazines, flip book of geography brochures, photograph flash catalog and other fields that you can think of. Enjoy designing your PDF to flip books.
Screenshot of the City Lines Theme:
--------------------------------------------------------------------------------------------------------------------------------------------------------------------------