FREE
For Windows 7, Vista, XP

Bouquet Theme for eFlip Software
Free download and helpful in eFlip software
Flash book themes especially for eFlip software.

Integrative operation experience for flash book sharing.
Use your own logo and links at the flash bar.

Download
Flash Player 10.0+
Bouquet templates for eFlip programs are 100% free here!
Here is the free template for flipbook software of Bouquet style. It is about some fresh and clear bouquets. We had chosen some white flower bouquets at book background to make it more ornamental valuable. You may not see these because in this midsummer, but you can still experience the cute plants and enjoy happiness. Now you can download the pack for free and using them without hesitation. Go to free template section for more information.

These templates include three styles and it's suitable to use in travel digital magazines, flip book of geography brochures, photograph flash catalog and other fields that you can think of. Enjoy designing your PDF to flip books.
Screenshot of the Bouquet Theme: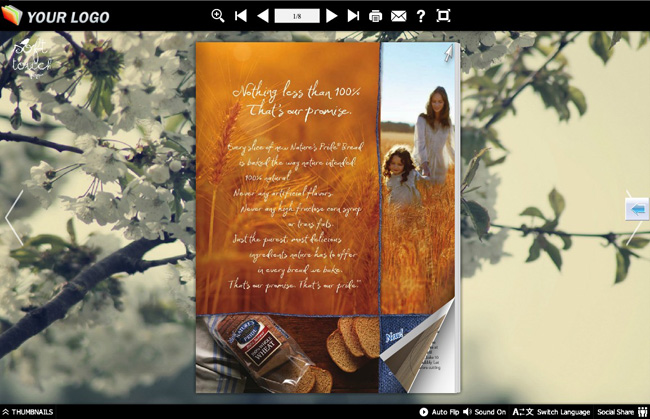 --------------------------------------------------------------------------------------------------------------------------------------------------------------------------