Set background of flipbook with images or pure color
eFlip Professional stores multiple pre-designed themes. All of them have unique background and toolbar color. You just need to double click one of the themes to apply, then the background of flipbook will be changed as screenshot show. However, some people would like to make unique theme with their own images or pure color. It is also easy to do with eFlip Professional.
Now learn below to steps to know how to make unique theme:
Firstly, download and install eFlip Professional from PageFlipPDF.com, and then run on it. Secondly, import file (PDF, Image, Office, Openoffice) to software and choose template for your flipbook.
In Flash display setting:
1. Set background with images
. Add Image or SWF to background file;
.Set background position: Scale to fit, fill, top left etc;
2. Set background with gradient color
Adjust two colors and set Gradient Angle in Background color. If you choose the same color, background of flipbook is pure color;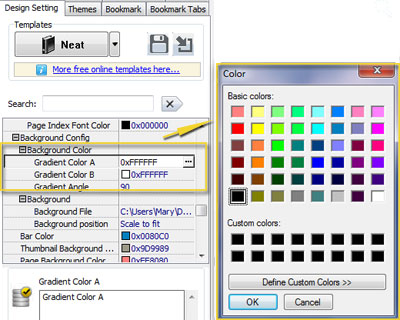 Image background give a colorful visual sense for readers, and pure color make your book simple and intuitive. No matter which ways you choose, you should press "Apply Change" button to save all settings.
Download eFlip flipbook software to have a try now >>