How to make Flipbook in HTML5 with Thumbnail navigation?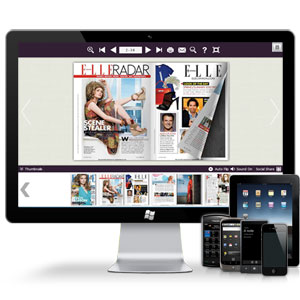 We all know that to view flipbook, you need to install Flash plug-in. But some people not want to install it on their computer, because it takes a lot of space. Flipbook in HTML5 can be your best solution, since for it is not require for swf. Now read on this article to know how to make flipbook in HTML5 with Thumbnail navigation, for PC/Mac/Mobile.
Step1: Download and Install eFlip Standard
Download eFlip Standard and install to your computer: http://www.pageflippdf.com/download/eflip.exe;
Step2: Set Thumbnail navigation
. Import PDF, MS Office, Image, Openoffice to software and select template;
. In the left side of flipbook, there is a design setting panel. Open it and enable show Thumbnail button in ToolBar setting;
. After settings, click "Apply Change" to save the settings.
Notes: Neat and Spread template default display thumbnail and Classical template not support for thumbnail. Only Float template allows you to show or hide Thumbnail button.
Step3: Make Flipbook in HTML5
Click "Publish->Flash/HTML5" in the menu and write the save path. Then click "Convert" icon to output HTML5 Flipbook.
Download eFlip flipbook software to have a try now >>