How to embed YouTube video into HTML Flipbook?
Question: I like the YouTube and Language capabilities of eFlip Professional program. But when I want to add YouTube video, it can only be embed into book page. Sometimes, I'd like to display it on the left side of flipbook. So is there any way I can do it?
Answer: Now eFlip Professional integrate with Plugins feature. One of the plugins "youtubebanner" can help you to embed YouTube Video into the background of flipbook.
How to use this plugin? You can follow below steps:
Step1: Install and Launch
Install eFlip Professional to your machine and launch it;
Step2: Import and Design
. Click "Create New" icon to import file (pdf, image, office, openoffice);
. Select template and pre-designed theme, or custom your own theme by setting background and toolbar color;
Step3: Embed YouTube Video
. Open Plugins panel and double click to apply "youtubebanner";
. Input your video ID in the pop-up dialog, set its position and size;
. After setting, click "Apply" button;
. Then, you can find YouTube Video have been displayed on the background of flipbook;
Step4: Publish
Use "Upload Online" feature to publish your flipbook to online.
Notes: If you feel it is too difficult to set its position with percentage, you can directly drag the plugin to suitable position on Plugin Position Designer.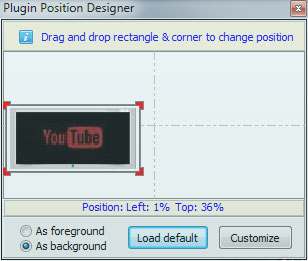 Download eFlip flipbook software to have a try now >>