How to custom the page thickness of flipbook?
Flipping ebook allows you to flip the book page, but most of them donot display the effect of page thickness. To enhance its sense of reality, eFlip Standard support for setting page thickness of your flipbook. Learn this tutorial you will know how to do it.
Step1: Install and run
Download eFlip Standard from PageFlipPDF.com and install it to your machine. Then, run on it.
Step2: Create Flipbook
. Open a new project by clicking "Create New";
. Import file (pdf, image, office, openoffice);
. Select template & theme in design setting panel;
. Design its background with custom tools;
Step3: Custom page thickness
Open design setting panel, click "Flash Display Settings->Page thickness" to choose option: Thin, Thinner, Thick etc.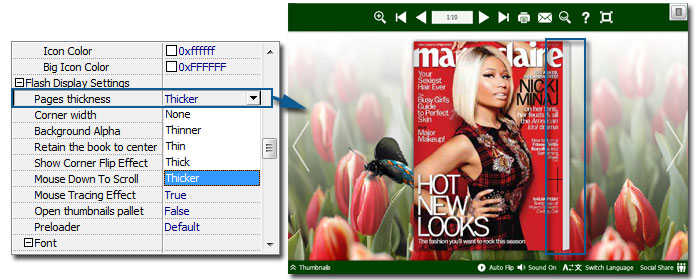 After designing, click "Apply Change" to preview the effect.
Publish flipbook to online by use of "Upload Online" service.
Download eFlip flipbook software to have a try now >>