Customize unique button for Page Flip book
We all know that eFlip Professional enable you to design the background of flipbook with images or pure color. But actually you can also custom unique button by use of eFlip.
There are three ways to customize unique button for Page Flip book:
1. While designing, set the color of toolbar and button icon;
2. Replace all toolbar buttons to your own icons;
3. Create a new button for linking a new webpage/photo slideshow;
Firstly, you should install eFlip Professional and launch this application. And then import file ->choose template & theme in design setting panel.
To set toolbar button color:
. Set toolbar color in Flash Display setting;
. Set button icon color in ToolBar setting;

To replace all buttons:
.Click "Tool Bar Settings->Button Icons->Icons File (SWF Only)" to add your button file;
.Click "Apply Change" to view the effect;
To create new button by Page editor:
. Click "Edit Pages" button in the menu;
. Select "Add Button" media and draw a frame in flipbook page, part of the page is the best;
. Set icon image for your button: directly choose pre-designed button resource from Button Properties or select your own icon by clicking "Select an Icon (SWF, Image)";
. Set action for button: click "Action Options" to set the action you want, like open a link, photo slideshow, pop-up flash window etc.
. Save and edit to view the button;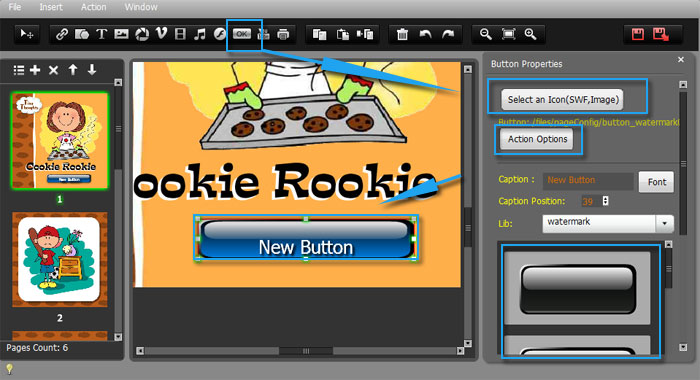 Download eFlip flipbook software to have a try now >>