How to resize images and convert images to photo flipbook?
Now the new version of eFlip Standard program supports for importing images. You can convert images to photo flipbook, digital photo album, flipping album with page flip effect, and even resize images while converting. The background of photo flipbook can be set to colorful or pure style, completely according to your love. And what's more, you can read photo flipbook in any device, no matter PC, Mac, Mobile and Tablet, it decided by the output format you choose.
Step1: Download and Install
Download and install eFlip Standard program to your machine;
Step2: Import Images
. Run on eFlip Standard and create a new project by clicking "Create new";
. Click "Import Images" to add images and define the images size;
.After that, click "OK";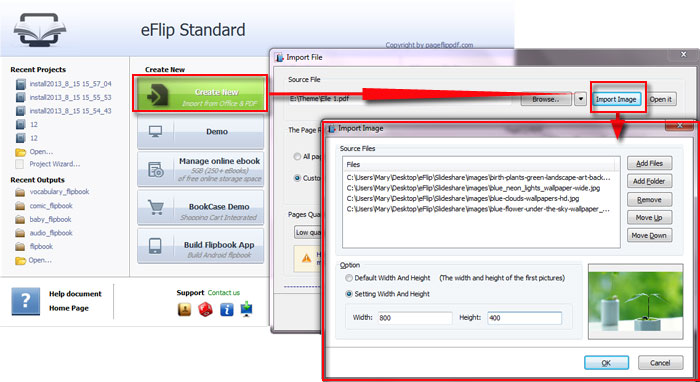 Step3: Design Photo flipbook
. Choose template and custom a unique theme for your flipbook, or directly apply built-in themes & scenes;
. Add Plugins to show news, video, photo slideshow;
. Create a new bookmark for reading easily;
. Click "Apply Change" to save all settings;
Step4: Publish
.Click "Publish->Flash/HTML5" to converting;
.After converting, you can get a file on your machine, which allow you to upload to your website.
Download eFlip flipbook software to have a try now >>