How to produce Page Flipbook in HTML format?
Question: I am a web designer. Recently, I find a funny ebook call Flipbook in other website. It is amazing that I can flip the book page like a realist print book. How can I make such HTML flipbook for mine website? Can eFlip Software do?
Answer: Yes, eFlip Software is flipbook maker for converting ebook to pageflip book. With using eFlip Software, you can make HTML/App/EXE flipbook, read online or offline. The below tutorial will tell you how to produce PageFlipbook in HTML format with eFlip Software.
Step1: Download and Install
. eFlip Standard:
Standard version for making flipbook, from PDF/Image/Office/OpenOffice;
Download Link: http://www.pageflippdf.com/download/eflip.exe
.eFlip Professional:
Professional version for creating 3D flip book, with multiple rich media;
Download link: http://www.pageflippdf.com/download/eflip-pro.exe
Free Download one of the versions and install to your computer.
Step2: Design Flipbook background
. Open software and import ebook, choose one of the pre-designed templates;
. Custom Flipbook background and Click "Apply Change" to save settings;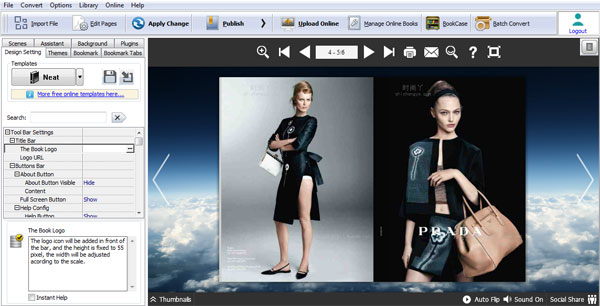 Step3: HTML Flipbook
. Click "Publish->Flash/HTML5" in the menu;
. Write the save path and Flipbook html title;
. Click "Convert" icon to make HTML flipbook.
Download eFlip flipbook software to have a try now >>