How to present introdution on Page Flipbook?
Would you like to show company/product introduction in form of Flash? Now, new version of eFlip Software (eFlip Standard/Professional) comes with multiple helpful plugins. One of them is "amazing-intro", which can help you to present magazine info, company info and directly open your own website.
Let us view the screenshot: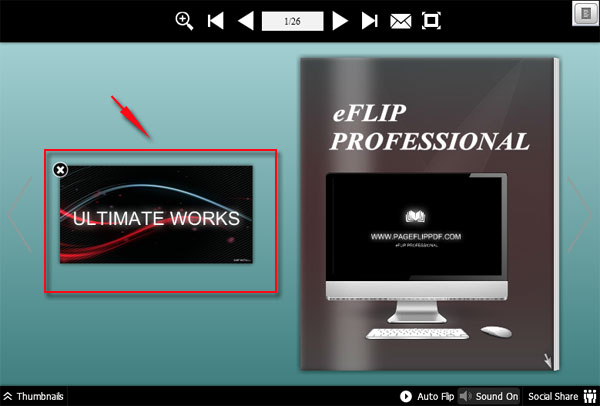 The effect is very cool, right? If you also like, read below steps to know how to do it:
Step1: Install eFlip Professional to machine and run on it;
Step2: Click "Import File" to browse and open your file (pdf, image, office, openoffice);
Step3: Select template and theme to design the background of flipbook;
Step4: Open "Plugins" panel, click "More Online Plugins" to install more plugins;
Step5: Double click "amazing-intro" to apply this plugin;
Step6: In the pop-up dialog, write company info, website link and caption to save;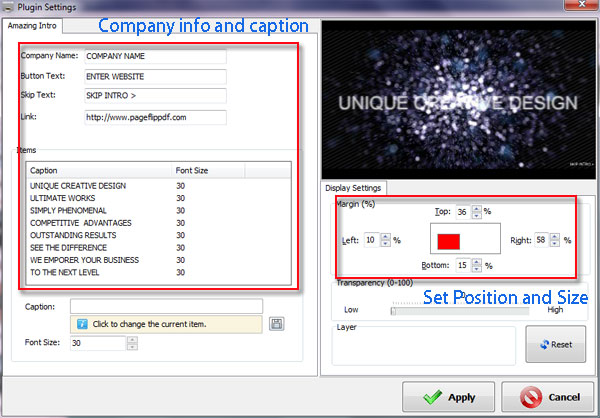 Step7: Set its position, size and Transparency;
Step8: Click "Apply" icon to view the effect.
Notes: If you feel it is too difficult to set its position with percentage, you can directly drag the plugin to suitable position on Plugin Position Designer.
Download eFlip flipbook software to have a try now >>