How to manage and edit your imported PDF page in Page Control Panel?
After importing PDF, it will open the design setting interface. In here, you can not only view the flip book, but also allow for designing, managing and editing. If you want to add new pages (swf/image/pdf page) to enhance flipbook, you can use the Page Control Panel in the right side of flipbook. Look at the below steps to know how to add:
1. Install eFlip software (eFlip Standard/Professional) and open it;
2. Import PDF and choose template to design;
3. In the right side of Flipbook, there is a page control panel. Click "+"->"Select insert type(SWF/IMG/PDF)" to insert new page;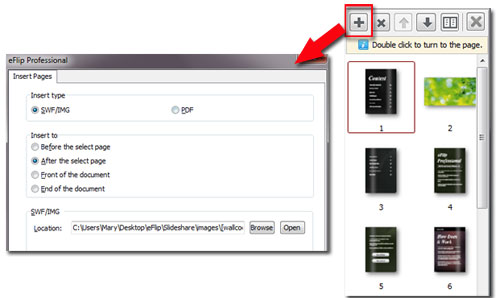 4. Then you can view the inserted swf/image/pdf on the panel.



Download eFlip flipbook software to have a try now >>