How to gradually displayed text font for Flip ebook?
eFlip Plugins is tools help you to show info, music, images. Multiline text show is also a plugin to display your company info or product intro. It is especial, gradually display text font line by line.
Let us view this tutorial to learn:
Step1: Install eFlip Professional program and run on it;
Step2: Click "Create New" icon to open a new project;
Step3: Browse and open file (pdf, image, office, openoffice) to import;
Step4: Open design setting panel to choose template and theme;
Step5: Open "Plugins" panel to double click "multiline-text-show";
Step6: In the pop-up dialog, write title and intro in the blank box;
Step7: Set its position and size;
Step8: Click "Apply" to show effect.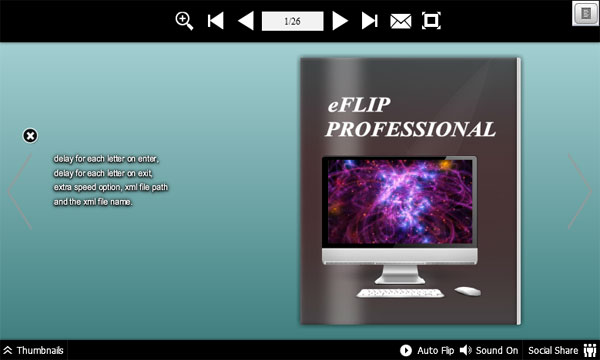 Notes: If you feel it is too difficult to set its position with percentage, you can directly drag the plugin to suitable position on Plugin Position Designer.
Download eFlip flipbook software to have a try now >>