How to embed animated flash flipbook into your website?
In this tutorial, I will teach you how to embed flash flipbook into your website. During the progress, we need to install eFlip Software (eFlip Standard/Professional) firstly. This is a Flipbook maker for converting PDF/Image/Office/Openoffice to flash flipbook. Read on this tutorial to know how to embed your flipbook into webpage:
Step1: Install eFlip Standard/Professional
Download and install eFlip Software from PageFlipPDF.com website.
Step2: Create Flash flipbook
. Import File (PDF, Image, Office, OpenOffice) and set the page quality or size as you need;
. Select template and design the background of flipbook;
. Add rich-media (image, video, button, music player) to flipbook pages;
. After settings, click "Apply Change" to show the effect.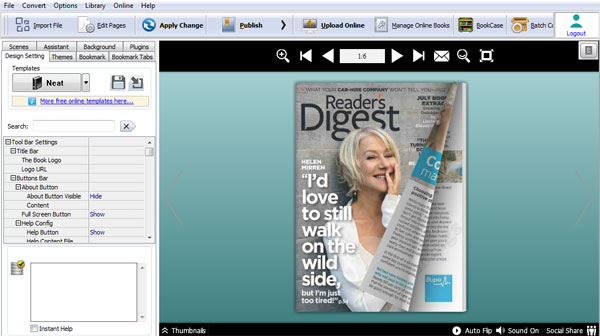 Step3: Upload Flash Flipbook
. Open eFlip upload online feature and register an account to login;
. Write the HTML title of flipbook and press "Upload" icon;
. Wait for some minutes, the link of online flipbook will be produced.
Step4: Embed into Website
. In the link produce panel, it also provides the flipbook code;
. Copy those codes and embed into your blog or website.
The below example is what I make as this tutorial:
Download eFlip flipbook software to have a try now >>