How to create Excel Spreadsheets to Page flip book?
Would you like to flip Excel Spreadsheets to view the statistical data? Now eFlip Professional allows you to create Excel Spreadsheets to Page flip book. The whole operate progress is so simple and standalone, no plugin and other software required. Except Excel file, eFlip Professional also support for converting PDF, Word, PPT, Image, OpenOffice to flipbook.
Screenshot of flipping Excel:
1. Install eFlip Professional to your machine (download link: http://www.pageflippdf.com/download/eflip-pro.exe).
2. Find the software and launch it;
3. Install OpenOffice application before creating flipbook;
4. Create a new project by clicking "Create New", Import your Excel Spreadsheets, and set its quality and size. Then click "Import Now" icon;
5. Choose template (Classical, Spread, Neat, Float), design the background and toolbar of flipbook. When finished setting, click "Apply Change";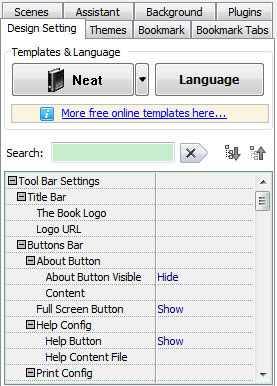 6. If you want to rich flipbook, you can use Page Editor to embed video, button, images, link to book page;
7. Click "Upload Online" icon in the menu and input your account info to login. In here, you can edit the html title and click "Upload" icon to publish your flipbook online. Wait for some minutes, you can get a link of flipbook, for viewing and sharing.
Download eFlip flipbook software to have a try now >>